Mozambique is set to be part of India´s International Solar Alliance' (ISA), a solar energy project for Africa that aims to compete with China´s Belt and Road strategy.
State-run NTPC Ltd is planning to help ISA´s member countries—Gambia and Malawi—develop solar power parks to meet electricity demand, according to Mint news portal. After landing the project management consultancy contracts for developing solar parks in Mali and Togo, India's largest power generation utility is also eyeing similar opportunities in other ISA member countries from Africa— Sudan, Mozambique, Egypt, Uganda, Rwanda and Niger.
"NTPC has identified ten member countries as leaders who may be willing to put up solar parks in the near future and would like to avail the services of NTPC in assisting them as a turn key consultant. ISA has empanelled NTPC and will soon be doing another exercise to empanelment more PSUs (public sector units) from the member countries who have rich experience in solar space," an ISA spokesperson said.
ISA is the first treaty-based international government organisation headquartered in India, and increasingly being viewed as a foreign policy tool.
Drawing a comparison between Belt and Road Initiative and India's overseas infrastructure creation efforts, foreign minister S. Jaishankar had said India believes in a 'softer and collaborative diplomacy' wherein there is a 'sense of partnership.'
With an installed capacity of 62 gigawatt (GW), NTPC is targeting contracts to help set up 10 GW capacity in ISA member countries. NTPC accounts for nearly a fifth of India's installed power generation capacity of 370 GW.
New Delhi has extended a $10-billion concessional line of credit (LOC) for the African continent and is also exploring supply of small nuclear power reactors to electricity-starved countries, Mint had reported earlier.
New Delhi is opposed to the Belt and Road Initiative, which seeks to invest about USD 8 trillion in infrastructure projects across Asia, Europe and Africa, as it says the initiative lures countries into debt traps, and does not respect sovereignty or address environmental concerns.
India also plans to leverage ISA for its global solar grid plans–One Sun One World One Grid–to transfer solar power across borders. The plan is spread across three phases. While the first phase deals with the Middle East-South Asia-South-East Asia (MESASEA) interconnection for sharing green energy sources such as solar power, the second phase deals with the MESASEA grid getting interconnected with the African power pools.
India is also trying to expedite the setting up of a World Solar Bank to mobilise USD 50 billion annually, and be its lead member in the backdrop of Beijing taking the lead in creating financial institutions such as the Asian Infrastructure Investment Bank and the New Development Bank.
Photo: NTPC power plant
Other articles
Angola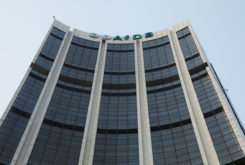 28 July 2020
Business Environment Improvement "Critical" for Economic Recovery in Southern Africa