Macau´s economy will recover in 2021 from a 63% fall projected for this year, with the Special Administrative Region´s "fortunes tied to a recovery in Chinese tourism", the Economist Intelligence Unit (EIU) says.
"We expect Macau's economy to contract by 63% in 2020, owing to the pandemic's disruption of gambling and tourism. Falling investment and private consumption will reflect this, as households and businesses adjust to weaker economic activity", the EIU says in its most recent report on the Chinese Special Region.
The economy will recover in 2021, "although the fast pace of annual expansion will stem from statistical distortions caused by a low base of comparison", it adds. The EIU does not expect any of the GDP´s by-expenditure components to return to pre crisis levels by that year.
Ho Iat Seng, chief executive since December 2019, will spend most of 2020-21 dealing with the economic fallout of the coronavirus (Covid-19) pandemic and subsequent recovery efforts, new priorities that relegate to the background deeper efforts to diversify the economy away from gambling, the EIU says.
"We expect more official focus in (diversification) after 2022, with the pandemic exposing Macau's overreliance on gambling", the report says.
Despite the shock from pandemic relief measures, the government budget will remain in surplus in 2020.
"However, stimulus will be insufficient to offset fully the effects of the coronavirus, with Macau's broader fortunes tied to a recovery in Chinese tourism", the EIU says.
On September 18th, the Statistics and Census Service (DSEC) published inflation statistics, which showed that consumer prices were flat on a year-on-year basis in August, after having risen by 0.3%, year on year, in July.
The fall in inflation to zero was the lowest reading since November 2009 and "reflects the unprecedented recession in Macau", with the recreation and culture component of the consumer price basket, leading prices to fall 12.1%, year on year, the report states. Prices for package tours and hotels similarly reported a 28.6% decline.
"We expect prices in the tourism sector to remain in deflation through the remainder of 2020, with recent border relaxations struggling to revive visitor levels to pre-crisis levels. Other price categories recording large declines include communications and clothing/footwear", the EIU adds.
Despite the overall economic malaise, the headline inflation number grew by 0.1%, month on month,the first such gain since February, and other categories also reported price increases, including food and non­alcoholic beverages, which grew by 2.9% year on year, supported by a 23.1% increase in pork prices, which reflects developments in mainland China, amid the continuing outbreak of African swine flu.
"It is too early to judge, however, whether this will snap the disinflationary trend that has taken root in the territory, nor does it yet suggest a firming in near-term private consumption prospects", according to the EIU.
These factors will instead remain closely tied to the success of Macau officials in luring back tourists from mainland China to the city; a bump in arrivals over the "Golden Week" (October 1st-7th) holiday period could facilitate this, but we do not expect these inflows to rival either visitor numbers or related expenditure in past years, it adds.
According to the EIU, which now forecasts that consumer prices will rise by 0.6% in 2020, this suggests that price growth will remain muted, particularly as a high base of annual comparison from late 2019 lays the groundwork for prices to fall into slight deflationary territory (in year-on-year terms) by the fourth quarter.
The EIU expects these pressures to abate by early 2021,, with inflation rebounding to 1% on average that year.
Other articles
China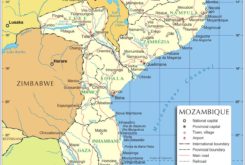 07 December 2022
Mozambique graphite attracts Chinese companies
Brazil
05 December 2022
Brazil Exports to China Jump 35.6% and lead to record trade surplus