The government of Portugal has announced that it will proceed with plans for a space port on the island of Santa Maria in the Azores. Named the Atlantic International Satellite Launch Programme (AISLP), it will be used to launch small satellites into space, as Lisbon attempts to make use of its geographical advantages to host the project. A separate space sector cooperation agreement between China and Portugal could encourage Chinese companies to make use of the new facility.
A competitive tender is being held for the contract to build and operate the first phase of the project, attracting 14 preliminary bids from companies and consortia in the US, Russia, Netherlands, France, Italy, Germany, Spain and Portugal itself. The 14 have not been named but the science and technology minister, Manuel Heitor, revealed in April 2017 that the European Airbus consortium, one of the world's two big aerospace manufacturers alongside Boeing, was interested in developing a space base on Santa Maria.
The regional secretary for the sea, science and technology, Gui Manuel Machado Menezes, said that a shortlist is now being drawn up, with the successful bidders invited to provide more details of their proposals in the second stage. The Portuguese Science and Technology Foundation will select the successful bidder in mid-2019 in consultation with the government of Portugal and the regional government of the Azores.
Among other requirements, the successful company or consortia must demonstrate how it will work alongside Portuguese companies and research authorities. It is hoped that Portuguese firms can provide components and services for launchers and satellites. The first commercial launches are scheduled for mid-2021. The project will receive technical support from the European Space Agency (ESA), while Lisbon hopes to attract €320 million from the European Space Programme budget for 2021-27, which totals €16 billion, to help fund the venture.
The selected operator must provide low cost, frequent and regular access to space for small satellites from the Azores. It is accepted that the project may take many years or even decades to break-even, although it can target launches for a wide range of customers, including institutional customers such as the Portuguese government.
Beijing's involvement
Lisbon and Beijing have also agreed to set up a joint venture called STARlab to build and operate research centres in Shanghai and in Matosinhos and Peniche in mainland Portugal to produce micro satellites for agricultural and oceanographic uses. An agreement setting up STARLab was signed by President Xi Jinping during his visit to Portugal in December 2018.
The estimated US$57 million development costs will be divided equally between the two governments. Portuguese drone manufacturer Tekever will play a leading role in the venture, alongside the Chinese Academy of Sciences, the Science and Technology Foundation and Portugal's Centre for Product Engineering and Development. STARLab satellites could be launched from Santa Maria.
Lisbon has also committed to developing space partnerships with other countries, under the Go Portugal – Global Science and Technology Partnerships Portugal initiative, including with the Brazilian Space Agency (AEB) and the Brazilian National Space Research Institute (INPE).
The Portuguese government has long wanted to develop a spaceport, with Santa Maria at the top of its list of suitable locations. However, it has finally passed legislation enabling the licensing of rocket launches and regulating the industry. Lisbon is in the process of setting up the Portuguese Space Agency, based on the island, as the industry regulator and as laid out in the Portuguese 2030 Strategy for Space, which was unveiled in March 2018.
An ESA report published in mid-2018 supported the choice of Santa Maria to host the project, while a feasibility study into developing the project at Malbusca on Santa Maria in collaboration with the University of Texas at Austin's Center for Space Research was completed in 2017.
Why Santa Maria?
Santa Maria would not be a newcomer to the space industry, as it already hosts an ESA ground tracking station for launches from the ESA base in Kourou in French Guiana. Piero Messina, a senior officer at the ESA's strategy department in Paris, said that the island was ideal because its remoteness from more heavily populated areas provides a high degree of security. Launch sites are usually built close to large bodies of water to ensure that no components are shed over populated areas; they must also be big enough that an explosion would not affect population centres. More remote locations also avoid noise, pollution and radio-electric interference in urban areas.
The most southerly of the nine Azores islands, Santa Maria is also much closer to Europe than Kourou, offering shorter shipping times for components, but also relatively convenient for the Americas and Africa. As more countries begin to launch their own satellites, the benefits of its proximity of Africa should not be underestimated. Morocco has already launched three satellites, Algeria six and Nigeria five. The number of small satellite launches is expected to increase exponentially over the next decade.
Santa Maria benefits from generally calm weather, plus open seas to the south and north for rocket launches to deliver satellites to altitudes of 400-1000km into polar orbits, but is also located far enough south for the launch of satellites into sun synchronous orbits. Gui Menezes, Portugal's regional secretary for the sea, science and technology, said: "The 'Atlantic centrality' of the Azores represents not only an asset, but – and above all – a unique location for scientific and technological development of our region in many domains."
Small, mini, micro and nano-satellites, up to a mass of 500kg, could be launched from the site. The satellites in question will provide communications, agricultural, environmental and security services, including pollution monitoring and urban planning.
There is also expected to be rapid growth in demand for satellites for maritime monitoring and surveillance; natural resources monitoring; desertification and wildfire protection; climate change monitoring and meteorological services; health assistance; and the monitoring of migratory flows. The project is likely to generate much of its business from European customers, although larger satellites will continue to be launched from the ESA's main base in Kourou, which already handles satellites with a mass of up to 10,500kg.
Lisbon aims to help:
reduce the cost of access to space, while using innovative, environmentally responsible and safe launching technologies; enable the growth of the small satellite market and envisaging disruptive operation approaches, including the development of an open spaceport to foster international cooperation with a wide range of operators; develop and construct the next generation of satellites, following the trend of miniaturisation of satellite platforms, with an increasing use of flexible multi-purpose sensors and beyond the state-of-the-art energy and orbit management technologies;
Benefits
Aside from the scheme itself, ancillary investment will provide wider benefits to the island economy, including in power and water sector infrastructure, airport facilities and road upgrades. The government hopes to oversee the creation of 1,000 new jobs and private sector investment of €400 million a year in the space industry under its Portugal 2030 initiative, with the Azores likely to attract much of this investment.
It is anticipated that the space port will generate billions of dollars in revenue and it is hoped that the scheme will attract other space technology companies to set up operations on Santa Maria. The islands are already connected to mainland Europe and North America by subsea fibre cables, so the islands' telecoms infrastructure should be capable of supporting incoming companies.
The president of Portugal's Foundation for Science and Technology, Paulo Ferrão, said that Portugal had particular capabilities in space system software and control, flight dynamics, mission control and operations, RF payloads for radio navigation, ground station systems and on-board data systems.
Ferrão added: "Portugal has been strengthening the strategic advantage of its geographical positioning in the Azores, through a partnership with the ESA, which has allowed for the installation of an advanced set of antennas capable of tracking of Ariane launches, facilitating data download for earth observation services, or enabling downlink of scientific missions' data, providing more opportunities for New Space exploitation." Ariane is the ESA rocket launched from Kourou.
AISLP's developers expect launches to move beyond the traditional uses of satellite navigation and earth observation systems. In the application document, Heitor said: "Economic growth and the creation of skilled jobs can be achieved by stimulating the market uptake of space-based and space-enabled services that deliver a wealthy amount of space data and signals. Global internet coverage, autonomous vehicles, remotely operated vehicles, smart agriculture and the internet of things are some of the technological trends that will inevitably push for the development of a new generation of space-based services".
There are a number of financial incentives for developing the project in the Azores. The government of Portugal offers grants and tax rebates to space companies setting up operations in the Azores, including corporation tax that is a fifth lower than in mainland Portugal. In addition, income tax is up to 30% lower and VAT rates are among the lowest in the European Union.
The new space base will compete with a rival facility in northern Scotland that also expects to launch its first satellites in 2021. UK firm Orbex is to develop the project near Inverness, but its chief executive Chris Larmour warned in February that it could move the project to the Azores if the planning and permit processes took too long in Scotland.(end)
Other articles
China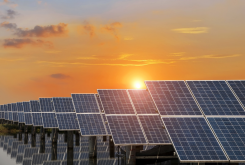 25 May 2020
Huawei Fusion Solar Brings 5G Energy Technology to Portugal