Angola has updated legislation on foreign exchange operations, for individuals and banks, according to official legal database Legis-PALOP+TL.
Starting on April 8th, 2023, foreign exchange operations will include the sale of foreign currency to a customer or the debiting of a customer's account with own funds in foreign currency to cover financial operations, in addition to the coverage of operations involving goods or capital.
Foreign exchange operations ordered by individuals are exempt from licensing by the National Bank of Angola (BNA), beggining on the same date.
Legal Update/Angola: Bank accounts rules for financial institutions
The intermediation of foreign exchange transactions can only be carried out by a Banking Institution authorized to carry out foreign exchange trading, which must in particular comply with the following rules, under penalty of committing a serious infraction punishable with a fine of up to 21,120,000 Kwanzas (approximately USD 40,000), and additional sanctions which, among others, may include the temporary or permanent revocation of the license to carry out foreign exchange trading, or the temporary or permanent disqualification from exercising functions of one or more members of the administrative or management bodies of the non-compliant Institutions:
⦁ Ensuring adequate and sufficient knowledge of its customers to allow rigorous validation of the legitimacy of the operations requested by them, supported by documented and up-to-date account opening processes, as well as due diligence procedures defined and carried out according to the level of risk assigned to the client.
⦁ Establish procedures, documented in an internal standard, for determining the financial capacity of its customers ordering foreign exchange operations, based on a risk-based approach, considering the characteristics of the customer, as well as their foreign exchange operations, taking into account, among other factors, the number and frequency of operations ordered, the individual and accumulated value of operations in different periods of time, the purposes and the beneficiaries and destination jurisdictions of the operations; for defining the frequency of calculating the financial capacity of customers, based on their risk level, as well as the factors that may change this frequency or require a specific review.
⦁ In the process of determining the customer's financial capacity, consider records in the Credit Risk Information Center (CIRC) of defaults with a period of more than 90 days.
The covered foreign exchange operations can be settled using the originator's own funds in foreign currency or by purchasing foreign currency.
The total value of foreign exchange transactions for each originator is subject to the following limitations:
⦁ It cannot exceed financial capacity, regardless of the purpose or payment instrument used;
⦁ The value of unilateral bank transfers cannot exceed USD 250,000 per originator, per calendar year.
Other articles
Angola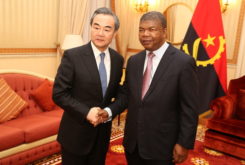 07 December 2023
China and Angola "An Example" for South-South Cooperation, MFA Says
Angola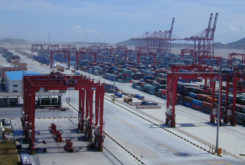 07 December 2023
China Eliminates Tariffs on 98% of Imports from Angola and Signs Investor Protection Agreement