Angola's new law against money laundering, a long-time demand of the International Monetary Fund (IMF) and banking regulators, has finally come into force. Both financial and non-financial institutions are subject to stricter regulations, from now on.
The new Law on Preventing and Combating Money Laundering, Financing of Terrorism and the Proliferation of Weapons of Mass Destruction (5/20), made available to CLBrief by Legis-PALOP+TL, expressly prohibits the establishment of "shell banks" in Angolan territory.
"Shell banks" are constituted and authorised to operate in a jurisdiction, without having a physical presence in that jurisdiction, and are not affiliated with a regulated financial group nor subject to effective supervision.
Also prohibited is the establishment of correspondence relationships with shell banks by the corresponding institutions, that is, banks or payment service providers that process and/or execute transactions for customers of the responding institution or payment service providers whose account is used to process and/or execute the transaction to the customer.
The new law also bans the opening or maintenance of anonymous bank accounts or those with clearly fictitious names.
The law covers financial institutions provided for in the Basic Law for Financial Institutions (12/15), but also non-financial entities operating within the national territory, namely accountants, auditors and lawyers.
Also included are other independent legal professionals hired by law firms, when they intervene on behalf of the client or in other circumstances, namely in the purchase and sale of real estate and social participations; of establishments and commercial entities; management of funds, securities or other assets of a different nature; bank and savings account management, among other activities.
The law also applies to companies active on regulated markets, settlement systems, clearing houses or central counterparty and centralized securities systems.
Service providers to trust funds (trusts) and companies are also included, namely all persons or companies that provide services to third parties such as agents in the constitution of legal persons or other acts benefiting legal entities or those without legal personality.
The law also applies to gaming activities; real estate mediation and purchase and resale of real estate, real estate agents, real estate developers, as well as construction entities that proceed with the direct sale of real estate; commerce in general; provision of market services; trade in metals and precious stones; and the automobile trade.
Entities subject to compliance have as obligations to avoid establishing correspondence with other responding institutions that, admittedly allow their accounts to be used by shell banks; as well as compliance with general obligations, in the exercise of its activities, of risk assessment, identification and diligence, refusal, conservation, communication, abstention, cooperation and provision of information, confidentiality, control and training.
Other obligations include ensuring the implementation of restrictive measures required by the UN Security Council or other entities, on the freezing of assets and economic resources and the prohibitions on carrying out transactions related to terrorism, the proliferation of weapons of mass destruction and/or their financing; as well as ensuring compliance with all obligations specifically applicable to financial institutions and non-financial entities.
Violations are punishable by fines, which can reach AOA 1.14 billion (US$2.25 million) when practiced by a financial institution, and AOA 4.56 billion (US$9.01 million) when practiced by a non-financial institution.
The law's approval is part of an effort by the government and the Angolan central bank to re-establish bank correspondence with the international banking system, which has involved contacts with the Federal Reserve of the United States.
Between 2015 and 2016, US correspondent banks ended their relationship with the Angolan banking system, due to concerns regarding compliance.
The Angolan banking system has only three representative offices of foreign banks: Commerzbank (Germany), FirstRand Bank and Nedbank (South Africa).
The lack of access to US dollars led the Angolan central bank to carry out its auctions in euros, which became the benchmark for determining the kwanza's price against a basket of currencies, including the US dollar.
Photo of Angola's National Bank | © SAPO Notícias
Other articles
Angola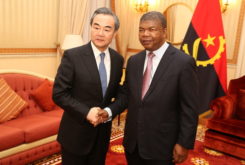 07 December 2023
China and Angola "An Example" for South-South Cooperation, MFA Says
Angola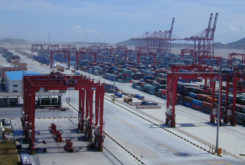 07 December 2023
China Eliminates Tariffs on 98% of Imports from Angola and Signs Investor Protection Agreement