Japan and China will finance new facilities for Cabo Verde´s health sector, with a combined value of EUR 15 million, according to the local press.
China will build a maternity and a pediatric unit, budgeted at EUR 12.3 million, while Japan will finance the restructuring of Cabo Verde's telemedicine network, in the amount of EUR 2.1 million.
Arlindo Rosário, former minister of Health and new ambassador of Cabo Verde to China, recently announced the laying of the foundation stone for maternity and pediatrics at Hospital Baptista de Sousa, in São Vicente, the second largest in the country.
Cabo Verde aiming to "strengthen good partnership" with China
"There are good projects (…) which will not only serve São Vicente, but the entire northern region", said Rosário, who highlighted the "exemplary cooperation" with China in the last 40 years, especially with the province of Sichuan, which sends medical teams to the country.
The Chinese ambassador to Cabo Verde, Xu Jie, previously said that the maternity and pediatric block at Hospital Batista de Sousa will "substantially improve" the level of medical care in the northern region of the country, which also includes the islands of Santo Antão, São Nicolau, Sal and Boa Vista.
China recently donated equipment valued at 4.3 million escudos (about EUR 39 thousand) to the president of Hospital Agostinho Neto, Imadueno Cabral, within the cooperation framework between the two countries.
Cabo Verde Minister of Health to take over Embassy in Beijing
To finance the State Budget in 2023, the Cape Verde Budget Support Group – which includes the European Union, Luxembourg, Portugal, Spain, the World Bank and the African Development Bank – made USD 68 million available to Cabo Verde this week.
Other articles
Cabo Verde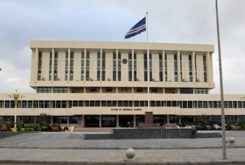 26 April 2023
Legal Update/Cabo Verde: National Strategy for the Prevention and Combat of Money Laundering