Indonesian company Buzi Hydrocarbons (BH) has suspended drilling for natural gas in the Buzi block in central Mozambique, due to the new coronavirus.
According to a statement by the National Petroleum Institute (INP) of Mozambique the drilling "is a complex activity, carried out by a considerable number of workers, including expatriates, who, due to the obligation to comply with the procedures established by the Government regarding the entry and exit of goods and people in the national territory, will not be able to proceed with the due rotation".
The company communicated the interruption to the Mozambican regulator on Thursday, saying that "at the moment the drilling activities are limited to maintaining the platform on site".
"It is expected that as soon as the emergency state is lifted and the circulation conditions are normalized, BS-1 and BS-2 holes will be completed and tested, in order to verify the flow and quantification of natural gas", adds the INP.
The investment in each of the research wells is estimated at USD 15.2 million, according to INP data.
BH holds 75% of the rights over the Buzi Block and the Mozambican Government the other 25%, through the National Hydrocarbon Company (ENH).
The Indonesian company announced the start of drilling in 2019, when the only commercial exploration of natural gas in the vicinity of that point was being carried out by South African group Sasol.
The intention to invest in gas research in Búzi, whose records of possible occurrence date back to 1962, was announced in 2015 and, at the time, the plan was to drill about 15,225 feet deep in the wells inside the Buzi gas field.
Total and Mitsui have announced the signature a USD 14.9 Bi senior debt financing agreement for Mozambique LNG, the country's first onshore LNG development.
Map: Buzi GNL exploration area
Other articles
Angola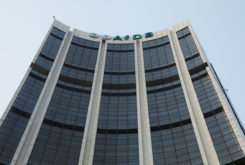 28 July 2020
Business Environment Improvement "Critical" for Economic Recovery in Southern Africa