Guinea-Bissau´s new minister of Fisheries, Malam Sambú, wants more control over foreign companies allowed to explore the country´s waters. The former ambassador to Beijing also sets the goal of signing a fisheries agreement between Guinea-Bissau and China.
Under an agreement that should run from 2019 to 2024, 50 vessels from European Union countries (Portugal, Spain, France, Italy and Greece) can fish in Guinean waters, against an annual payment of 15.6 million euros. About 70 vessels from Chinese companies are also currently fishing in Guinean waters, according to the Government.
In the future, Minister Malam Sambú said he wants to move towards signing an agreement between Guinea-Bissau and China, along the same lines as the one existing with the European Union. Alongside agriculture, fishing is a major source of income for the State.
The minister said he was working to equip the Ministry of Fisheries with devices, including drones, to reinforce the inspection of Guinean waters that have been invaded by illegal fishermen, according to reports by artisanal fishermen, all over the country.
"Without the inspection of our waters, maritime resources will be squandered. It is necessary that we have total control over maritime waters and that requires means that we are striving to obtain", declared Sambú, uinea-Bissau's ambassador to China between 2010 and 2020, quoted by Lusa news agency.
The government official also set as a priority to start certifying Guinean fish "to bring added value to the product", as well as to reinforce the training of the Ministry's staff.
With reports of a lack of fish in the Guinean market due to the new coronavirus pandemic, foreign fishing vessels operating in the country are mandated, as of 1 July, to supply the Guinean market, at risk of losing their license, according to Malam Sambú.
The government official gave until the end of the month for the industrial fishing vessels that have a contract to supply the local market to start doing so. Otherwise, they will not have their license renewed.
The minister defended that the Guinean state "cannot accept" that vessels fishing in the country's waters, unload the fish in Senegal and that Guinean traders buy it in that country and then sell it in Guinea-Bissau. "It is not fair," he said.
Photo of Malam Sambu, Guinea-Bissau Ambassador to China, meeting NNU President Minqiang Hu in 2016 | © Nanjing Normal University
Other articles
Angola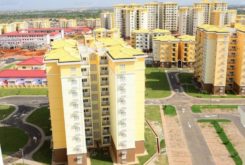 06 February 2023
CITIC rejects widespread construction defects in Angolan Kilamba Kiaxi housing project
China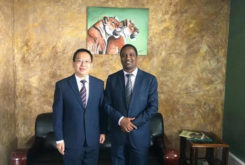 06 February 2023
China supports refurbishment of Guinea-Bissau parliament building