The Traditional Chinese Medicine Scientific and Industrial Park for Guangdong-Macao Cooperation has completed the registration process for 9 Chinese traditional chinese medicine (TCM) products in Mozambique and 7 in Brazil, expanding the market for TCM companies.
Aiming to promote TCM in Portuguese-speaking countries, the Park presented its public services and results in Beijing at the "Health Services" themed exhibition of the 2022 China International Services Trade Fair, from September 1 to 5.
With the model of "introduction of medicines through medical treatments", the Industrial Park co-organized 17 training and study programs aimed at employees, technicians, doctors of public hospitals in Portuguese-speaking countries. Based on research in Mozambique and Cabo Verde, Parque Industrial cooperated with local health authorities to conduct training in specialties.
China's first tax cooperation office for Portuguese-Speaking Countries opens in Hengqin 
As the first project implemented under the Guangdong-Macao Framework Cooperation Agreement, the Park was officially established in Hengqin, Guangdong Province, in April 2011. Taking advantage of Macao and Hengqin's Sino-Portuguese window positioning and highly innovative support of the Greater Bay Area, respectively, the park is dedicated to the Industry-University-Research integration and globalization of TCM, as well as accelerating the development of the healthcare industry in this region.
Aiming at the globalization of TCM, the park created the Center for International Cooperation and Exchange, hosting international registration promotion fairs, TCM training, as well as international exchanges for young professionals.
Since the completion of the Park's Incubator Area at the end of 2018, the park has hosted 228 registered companies concentrated in several areas, namely, TCM, health products, medical equipment, medical services and biomedicine, among others.
Macao and Guangdong to Jointly Administer Hengqin Cooperation Zone
According to Wangdan, manager of the park's Center for International Exchange and Cooperation, after training in non-invasive treatments, acupuncture courses were added. Currently, trained Mozambican doctors have treated more than 30,000 local patients with Chinese medical treatment.
To intensify exchanges between TCM's young talents, the park created the International Exchange Headquarters, an exchange platform for young professionals. In August of this year, a lecture called "Silver Needle Class" was held, in which TCM experts who have been on the front lines of the fight against epidemics were invited to share their experience in the prevention, treatment and rehabilitation of patients.
In March of this year, the State Council published the TCM development plan for the period of the 14th five-year plan (2021-2025), giving importance to the modernization and globalization of traditional Chinese medicine.
Other articles
Angola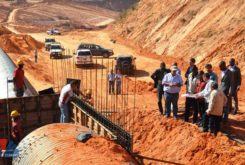 31 May 2023
African Development Bank to manage in Angola USD 50 million credit facility provided by China
Angola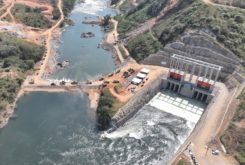 25 May 2023
Angola's 'Three Gorges' Hydro Dam Begins Main Construction Phase