The new megabridge that connects Hong Kong to Macao and Zhuhai will bring an increase in tourists to both SARs and accelerate economic development in the western Pearl River Delta (PRD).
The Hong Kong–Zhuhai–Macao Bridge (HZMB) is the first road link in China's history to connect the three cities. It will open in 2018. With a total length of 55 km, it is the longest and the most technically difficult bridge in all of China. It is also the most expensive, estimated at more than US$17 billion.
A 6.7-km underwater tunnel section, the longest sea tunnel in the world, crosses under the busy shipping lanes and strong currents of the Pearl River. To create it, builders laid 33 sections of tunnel on the bed of the river, each weighing as much as an aircraft carrier, and joint them seamlessly.
The tunnel, the deepest of its kind at 48 metres underwater, transitions into a 22.9-km bridge.
Taken in total, the HZMB is easily the longest sea bridge in the world. It is a remarkable engineering feat made that much more challenging in a region struck each year by powerful typhoons.
The bridge itself is complete, as is the 72-hectare man-made island offshore Macao that will handle vehicles carrying passengers and goods coming to the SAR and Zhuhai.
The island was handed over to the SAR government on 15 March. It has a built-up area of more than 600,000 square metres, with parking spaces for 6,800 private cars and 2,000 motorcycles.
The central government in Beijing has not yet announced the opening date. In January, the mainland media said it would be in the second quarter of this year. In March mainland officials told visiting reporters that an opening on 1 July would be impossible because the Hong Kong side had not completed its road-surfacing work and boundary-crossing facilities.
On 30 March, Pansy Ho Chiu-king announced that Shun Tak had won the exclusive rights to run shuttle buses between this man-made island and the one at the Hong Kong end. The Shun Tak group runs daily ferries services from Hong Kong to Macao and vice versa. The shuttle service costs will be HK$80 one way and 90-140 buses will depart every 10-15 minutes, or five minutes at peak hours. Night buses will run every 15-30 minutes. That compares with a HK-Macao ferry fare of HK$160-200.
The first beneficiaries of the bridge will be the tourism industries of the three cities, especially Macao. These shuttle buses will be able to deliver a higher volume of visitors per day than the existing ferry services, which take 60 minutes and 70 minutes respectively from the centre of Hong Kong to Macao and Zhuhai.
Many mainland visitors join a HK-Macao tour and stay one-two days in each city. They will be prime users of the shuttle buses.
Benefits to Zhuhai
On 30 March, Hong Kong Chief Executive Carrie Lam crossed the bridge for the first time and visited Zhuhai.
"The bridge will draw people in Hong Kong and Zhuhai closer together," she said in Zhuhai. "Hong Kong people, in particular its young people, will find tremendous opportunities for development in Zhuhai. The two cities can collaborate in innovation and technology, cultural tourism, creative industries, education and medical services."
In Zhuhai, she visited the special zone of Hengqin, opposite Macao, which has nearly 900 Hong Kong-invested companies. There she visited Novotown, a tourism and entertainment project of the Lai Sun group.
Zhuhai officials have high hopes for the bridge. They hope that thousands of Hong Kong people unable to buy apartments at home will purchase them in Zhuhai and commute to work or retire there.
They see their city becoming part of a Greater Hong Kong, as Brooklyn and New Jersey are to Manhattan and Saitama and Chiba are to downtown Tokyo. Property prices in Zhuhai are much lower than in Hong Kong, just as they are in Brooklyn and Saitama compared to downtown areas.
But many obstacles remain. A daily commuter would have to go through two sets of border controls and then find his way to his place of work in Hong Kong – a journey that could take 90 minutes one way.
If he wants his children to be educated in Hong Kong and not in Zhuhai, they face a similar journey.
For retired people, the biggest obstacle is medical care. They have access to Hong Kong's high-quality and low-price public health care – but, in Zhuhai, they would have to pay for private medicine.
So the more likely scenario is that the bridge will encourage Hong Kong people to buy apartments in Zhuhai for weekend, recreation and part-time use, but as not their primary residence.
The bridge will certainly accelerate the development of Zhuhai's economy. To find a place in it, Hong Kong young people must compete against the enormous talent pool in the mainland, speak fluent Mandarin and be ready to work for lower wages than at home.
Zhuhai prepares for the bridge
Zhuhai has been preparing aggressively for the bridge. At an investment promotion event last August, the city announced the construction of the Zhuhai–Hong Kong–Macao Cooperative Logistics Park. It aims to function as the logistical centre for the two SARs and the whole west side of the PRD, including Zhongshan, Jiangmen, and Heshan. The park, slated for an 800,000 square metre lot, will be the centre of the planned 26 square kilometre Hong Kong–Zhuhai–Macao Bridge Economic Zone within the Hengqin New Zone (HNZ).
The HZMB Economic Zone will develop business forms from warehousing logistics to cross-border e-commerce to tourism.
The city's largest source of foreign investment is Hong Kong with US$26 billion in 1,535 ventures, explained Zhuhai Vice-Mayor Lu Xiaofeng. Of these, 668 are in the HNZ, with a registered capital of CNY79.2 billion (US$11.9 billion). Yang Chuan, director of the HNZ management committee, sees a bright future for the zone: "With the opening of the bridge, the HNZ can use the advantages of Hong Kong's airport, logistics and financial services and, with the bridge, drive the flow of people, goods, capital, and information."
Transport was always the Achilles' heel of Zhuhai. First established as a Special Economic Zone (SEZ) in 1980 due to its proximity to Macao, Zhuhai developed more slowly than the two SEZs of Shenzhen and Xiamen. Without a land connection to Hong Kong or a rail link to the rest of China, Zhuhai could not compete at the same level. The recent additions of a passenger rail line in 2011, and a cargo line at the end of 2012, will be greatly augmented by the direct land connection to Hong Kong offered by the HZMB.
In 2017, Zhuhai posted GDP of CNY256.47 billion, a rise of 9.2% over 2016, with utilised foreign investment of US$384 million. Its foreign trade was CNY 299 billion, up 8.6%, with exports of CNY 188.23 billion, up 4.4%, and imports of CNY 110.7 billion, up 16.4%. As of the end of 2017, the city had 8,305 foreign-invested registered firms with foreign capital totalling US$28.173 billion.
Its main industries are electronic information, bio-pharmaceutical products, electrical appliances, electrical energy, petrochemicals, and precision machinery. Officials expect the new land link will attract more investment from Hong Kong, especially in high-end manufacturing, new and high-tech industries, marine economy, eco-agriculture, and traditional Chinese medicine.
During Carrie Lam's visit, Niu Jing, Communist Party secretary of the Hengqin district, told her that, once the bridge was complete, Zhuhai airport could accept a portion of the traffic of the Hong Kong airport. The Jinwan Airport is in Sanzao township, 37 km from the city centre.
Zhuhai has proposed a diversion of business jets, for which there is limited space at HK airport. The clients could use helicopters or limousines for the onward journey to Hong Kong. The new bridge makes such plans more feasible – less than an hour's drive to Hong Kong – if still complicated: the two airports fall under different legal jurisdictions and separate air service agreement regimes.
The airport has been running well below capacity since it opened in June 1995. In 2017, it handled 9.2 million passengers, compared to a design capacity of 12 million.
Since August 2006, Hong Kong International Airport (HKIA) has held a 55% share in a joint management company with the Zhuhai government; the company has the exclusive right to manage and operate the airport for 20 years.
Clouds over the bridge
Several clouds hang over the future of the bridge. One is the small number of vehicles allowed to travel in both Hong Kong and Guangdong.
Currently, 28,000 vehicles in Hong Kong and 3,000 in Guangdong have cross-border licences. Last December the HK Transport Department and the Guangdong government announced a quota of such 10,000 HK cross-border licences
Applicants must meet one of the following criteria – HK enterprises with an accumulative tax amount of at least CNY 100,000 in Guangdong in the past three years: recognized national high-tech HK enterprises: HK residents who have donated at least CNY 5 million in Guangdong: HK residents who are members of the People's Congress or Chinese People's Political Consultative Conference at national level or provincial, prefectural and county level in Guangdong.
Everyone else will have to drive to one of the man-made islands, park their vehicle and take a local bus or taxi for their onward journey. In that case, why not continue taking a ferry, with the door-to-door journey time the same and the overall cost cheaper?
Another is the construction of bridge/tunnel connecting Shenzhen and Zhongshan, 24-km long and due to open in 2024.
The journey will be cheaper, quicker and will not involve two border and customs crossing. Some people fear that, after 2024, the only clients using the Hong Kong-Macao-Zhuhai bridge will be people from the three cities.
Other articles
China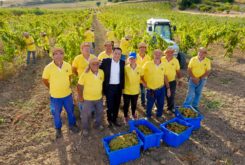 07 June 2023
"Green" Cooperation Brings Deputy Governor of Guangzhou Province to Portugal
Brazil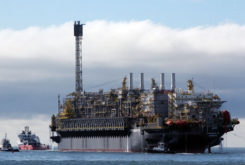 05 June 2023
China's CNOOC begins production at Buzios5 well in Brazil