Brazil-China relations have been put to a further strain with the release by the Brazilian Supreme Court of a recording of a Government meeting where the Minister of Economy, Paulo Guedes, says the Chinese Government should pay for a Marshall Plan to all countries that have been hit by Covid-19. China´s embassy in Brazil has avoided escalation.
In the recording of the 22 April ministerial meeting, released after accusations of former Justice Minister Sergio Moro that president Jair Bolsonaro tried to interfere with the Federal Police, the Minister of Economy, Paulo Guedes, says that "China is that guy that you know you have to put up with", when talking about Brazil's exports to the Asian country.
China, Guedes adds, "should fund a Marshall Plan to help everyone who has been hit" by the new coronavirus.
Brazil, whose biggest trading partner is China, is the Latin American country hit hardest by the new coronavirus, with over 22.000 deaths and nearly 350,000 confirmed cases so far.
The Chinese Embassy in Brazil released a note on Friday, stressing that China has shared information since the beginning of the pandemic". With "openness, transparency and a high sense of responsibility,", it adds, "information was given in due time to the WHO and other countries like Brazil", sharing, "without reservations, experiences of prevention, control, diagnosis and treatment", while "engaging in international cooperation to combat the pandemic" .
"Attitudes like these have received high esteem from the UN, WHO and the international community in general. In recent times, China's government, business and civil society organizations have been giving strong support to Brazil in its fight against the new coronavirus according to its needs", says the diplomatic note.
"China and Brazil are global strategic partners. Over the 46 years since the establishment of diplomatic relations, Sino-Brazilian cooperation has achieved comprehensive results at an accelerated pace. The facts prove that the Sino-Brazilian partnership corresponds to the interests of both States and the two peoples", it adds.
"China has remained Brazil's largest trading partner for eleven consecutive years and is one of the main sources of foreign investment in the country. The bilateral partnership in the economic and commercial area has always been guided by the principles of mutual respect, equality, benefit mutual and win-win cooperation and has effectively contributed to the joint growth of both parties, bringing  real benefits to both peoples", adds the Chinese embassy.
In the beggining of April, China demanded an explanation from Brazil after the Government's education minister, Abraham Weintraub, linked the coronavirus pandemic to Beijing's "plan for world domination". "Geopolitically, who will come out stronger from this global crisis?. "Who in Brazil is allied with this infallible plan for world domination?", said Weintraunb on Twitter, mocking a Chinese accent.
China's embassy in Brazil condemned Weintraub's "absurd and despicable" tweet, calling it "highly racist". "The Chinese government expects an official explanation from Brazil," tweeted ambassador Yang Wanming.
The row comes as Brazil, like many countries, is hoping to source more medical equipment from China to deal with Covid-19.
Since the pandemic emerged, Brazil-China ties have been strained, notably by a series of tweets by President Jair Bolsonaro's son Eduardo, a federal lawmaker. Eduardo Bolsonaro criticised the Chinese "dictatorship" for its handling of the outbreak in March.
He tweeted about the "Chinese virus", a phrase that infuriates Beijing and that the World Health Organization has advised against. It has also been used by US president Donald Trump.
That prompted China's consul general in Rio de Janeiro, Li Yang, to ask Eduardo Bolsonaro in an opinion column in Brazilian newspaper O Globo: "Are you really that naive and ignorant?"
Photo: Brazilian president Jair Bolsonaro addressing the 22 April Government meeting
Other articles
Brazil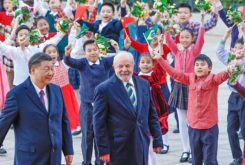 26 September 2023
China To Deepen Practical Cooperation With Brazil in All Areas
Brazil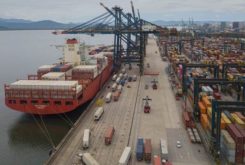 19 September 2023
China Fuels Record Brazilian Agricultural Exports