The exemption of customs tariffs for Angolan exports to China is being negotiated, while trade is growing 33% this year, according to the Chinese ambassador in Luanda.
Ambassador Gong Tao (pictured above) added during a press conference in Luanda that tariff exemptions are to be led by oil, followed by ornamental stones.
According to Gong, bilateral trade grew by 42% in 2021, year on year, reaching USD 23.35 billion, and another 33% in the first half of this year, to USD 14.42 billion, with China continuing to be Angola's main economic partner.
According to the ambassador, in May a freighter departed for China carrying 50,000 tons of granite bound for China, which also imports other minerals, aluminum and copper and by-products.
On the Chinese side, home appliances, machinery and equipment, as well as vehicles, are exported, with Chinese cars having good acceptance in the Angolan market, said Gong Tao.
The Chinese diplomat highlighted that the objective is to strengthen cooperation and facilitate trade, noting that about two months ago an air cargo transport agreement was signed, creating the Changsha/Luanda/São Paulo (China/Angola/Brazil) route.
Luanda to be 'key' in Chinese intercontinental air logistics hubs
"China is optimistic about Angola's economic development," said Tao. "Angola is experiencing economic growth and China, with its population of 1,400 million inhabitants, is increasingly becoming an attractive consumer market", he reinforced.
The diplomat also presented investment figures, noting that between 2018 and 2021, 24 investment projects by Chinese companies worth USD 225 million were presented, with China occupying third place in the FDI ranking.
The Chinese ambassador pointed out the opportunities for strengthening cooperation in the celebration of the 40th anniversary of China-Angola diplomatic relations, on January 12, 2023, and underlined that when peace was restored in Angola, 20 years ago, it was China that "quickly stretched out his hands" to help in the reconstruction of the African country.
Angola to earn USD 2 billion from Lobito corridor concession to Mota-Engil
Gong listed the infrastructures that the Chinese side helped to build and highlighted the adoption of a moratorium on Angolan debts to China, amounting to USD 21.4 billion during the covid-19 pandemic phase.
Gong Tao also said that about three weeks ago he visited the Caculo Cabaça dam, where a confrontation broke out in May that led to the death of at least two workers, to learn about labor relations with the unions, which he considered fundamental. to have "trust" and "a good working relationship".
He also guaranteed that China is committed to the transfer of knowledge and technology to Angola, giving as an example, Huawei, which created an 'Office park' in Luanda with training and research centres.
Other articles
Angola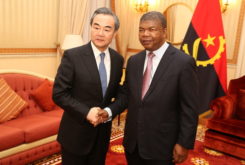 07 December 2023
China and Angola "An Example" for South-South Cooperation, MFA Says
Angola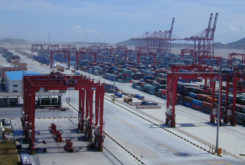 07 December 2023
China Eliminates Tariffs on 98% of Imports from Angola and Signs Investor Protection Agreement