The number of China-Europe freight trains traveling via Manzhouli, China's largest land port, reached 10,000 on Tuesday, according to local railway authorities.
Loaded with 61 containers carrying chairs, towels, valves, portable air conditioners and other products, a freight train left Manzhouli for Poland on Tuesday, becoming the 10,000th China-Europe freight train to cross the pass.
In the first quarter of this year, the number of China-Europe freight trains passing Manzhouli reached 951, up 60.4 percent year on year, according to Manzhouli branch of the China Railway Harbin Group Co. Ltd.
Analysis: Comprehensive Agreement on Investment Encourages EU Companies to Invest in China*
Since the first China-Europe freight train passing Manzhouli in 2013, the average monthly number of such trains has exceeded 300, the branch said, quoted by Xinhua.
Currently there are 52 China-Europe freight train routes that pass through Manzhouli, reaching 28 cities in 13 European countries.
Blockchain is being used to boost trade through the China-Europe train routes, which have contributed significantly to lowering logistics costs and served as a lifeline stabilizing global trade amid the pandemic, Xinhua reports.
On April 1 at the Chengdu International Railway Port, a major port in southwest China's Sichuan Province for China-Europe cargo trains, a new version of the blockchain-powered platform Sino-Europe Trade Link 2.0 was put into operation by the Industrial and Commercial Bank of China (ICBC).
The updated platform, which allows enterprises to raise funds directly from the bank, will lower costs and speed up the cash flows of relevant foreign trade companies.
Riding the Belt and Road Initiative proposed by China in 2013, the China-Europe freight train service has connected over 60 domestic cities with major European countries.
Other articles
Angola
09 December 2021
China-Africa trade in goods rises 27.4%
China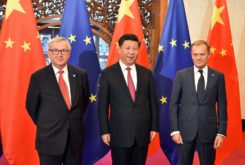 08 December 2021
Brussels and European capitals face 'reality of interacting with a more assertive China'