Equatorial Guinea, the most recent member of the community of Portuguese countries (CPLP), and with close ties to China, continues to strengthen its ties with lusophone countries. Two new agreements foresee joint oil exploration with Sao Tome and Principe and investment protection with Cape Verde.
The establishment of a Special Zone for Joint Exploration to explore and develop cross-border oil & gas reserves believed to be in the blocks bordering the maritime zones of São Tomé and Príncipe and Equatorial Guinea was agreed this week between the two countries, according to the African Energy Chamber (AEC).
The decision was taken during a meeting this week in Malabo between Osvaldo Abreu, Minister of Public Works, Infrastructures, Natural Resources and Environment of São Tomé and Príncipe and Gabriel Mbaga Obiang Lima, Minister of Mines and Hydrocarbons of Equatorial Guinea.
The agreement follows several cooperation agreements signed last year during the official visit of President Evaristo Carvalho to Equatorial Guinea, which notably included joint oil exploration in the countries' maritime zone.
Both ministers discussed plans to expedite joint exploration efforts in the blocks within their maritime zone, and expect operations to start as early as October 2020, the AEC adds.
São Tomé and Príncipe is also set to benefit from Equatorial Guinea's experience in the hydrocarbons sector, especially when it comes to offshore oil & gas exploration, production and monetization. In this regard, Equatorial Guinea has agreed to select students from São Tomé and Príncipe to study oil-related courses in the country.
São Tomé and Príncipe is believed to be an upcoming frontier when it comes to oil & gas. It has already attracted several international players in its blocks, including Portugal´s Galp Energia, operator of block 6, and Kosmos Energy, operator of block 11.
International major Shell also participates in both blocks with a 20% and 30% stakes respectively. At the beginning of the year, Galp announced that it would be drilling its first well in block 6 by the end of this year following seismic surveys conducted since 2017.
São Tomé and Príncipe shares another joint area with Nigeria, Africa's biggest oil producer, which resulted in the signing of a treaty in February 2001.
According to the AEC, the Gulf of Guinea has "potential for joint exploration and development between São Tomé and Príncipe and Equatorial Guinea, but also Cameroon and Nigeria". "Hopes are high that the ongoing cooperation and dialogue between São Tomé and Príncipe and Equatorial Guinea will pave the way for additional joint development efforts in the region", it adds.
This month also came into force an agreement between the states of Cape Verde and Equatorial Guinea for the Promotion and Reciprocal Protection of Investment, initially signed by the heads of the Diplomacy of Cabo Verde, Luís Filipe Tavares, and Equatorial Guinea, Simeon Angue, during the visit of Teodoro Obiang, Equatorial Guinea´s president, to the cabo-verdean capital, Praia, in April 2019.
In the preamble to the agreement, ratified by the Cape Verde Council of Ministers in February and published in the Official Gazette on March 6, it is defined that this type of instrument, together with the agreements for the Elimination of Double Taxation, offers to potential investors "the necessary guarantees that their investments will be treated fairly and will not be subject to undue interference by the State".
It further stresses that Cape Verde and Equatorial Guinea, as members of the Community of Portuguese Speaking Countries (CPLP), "wish to deepen their cooperation and economic relations, with benefits for the peoples of both countries".
Equatorial Guinea became, at the Second Belt and Road Forum held in Beijing in April 2019, perhaps the biggest surprise among CPLP countries by signing a Belt and Road Initiative MoU with the Chinese government and pledging adherence to the initiative.
Teodoro Obiang, president of Equatorial Guinea, is known to praise Chinese investors and government loans. Major Chinese construction companies have established themselves in the West African oil-producing country, a member of the Organization of the Petroleum Exporting Countries (OPEC) since 2017.
Last year, a delegation composed of executives from China's Exim Bank, Development Bank, and Ministry of Commerce visited Equatorial Guinea to study how the projects that the country is presenting to China can be channelled within the framework of the Forum on China-Africa Cooperation (FOCAC), according to the government.
Development projects in Equatorial Guinea for the period 2019-2021 include the creation of a Special Economic Zone (SEZ), aimed at improving the investment climate and supporting the strategy to diversify the national economy.
The SEZ plan envisions the construction of storage tanks for oil products; the implementation of a chocolate and textile industry; a palm oil refinery; factories for footwear, mattresses, school supplies, toilet paper, and napkins; expansion of fibre optics, together with the introduction of industries producing soap, detergents, animal and milk processing, feed and rice, as well as the completion of the construction works of the university campuses of Malabo and Bata, the country's two major cities.
In a recent and rare interview, President Teodoro Obiang told Africa Monitor that Chinese investment compared favourably with that of other countries, benefiting from a "major" US$2-billion loan from the government, that Equatorial Guinea is repaying.
The loan, he added, "does not generate state debt because it is in a parallel account in a Chinese bank, that we service according to our capabilities."
China and Equatorial Guinea have maintained diplomatic relations since 1970. Cooperation between the two countries is mainly in the economic and commercial sectors, and in infrastructure construction, favourably rated by both governments.
The new fibre-optic connection (Ceiba-2), opened in 2018, was implemented by Chinese information and communications technology (ICT) company Huawei.
Since São Tomé and Príncipe joined Forum Macao in 2017, Equatorial Guinea is the only country from CPLP still not a member of the institution. However, sources indicate that advances towards their membership status may be confirmed by the Forum's next Ministerial Conference.
Equatorial Guinea's membership in Forum Macao was suggested in 2015, prior to the 5th Ministerial Conference held in October 2016, but the membership never moved forward.
In 2019, the prime minister of Equatorial Guinea, Francisco Pascual Obama Asue, officially visited Macao to take part in the 9th International Infrastructure Investment and Construction Forum, in which his country was represented for the third straight year as part of an effort to get closer to Forum Macao.
Photo of an oil platform against the sunset | © SHPC
Other articles
Angola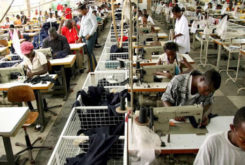 16 September 2020
US-Africa Trade Dominated by "Growing Rivalry with China" – Economist
Angola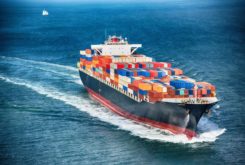 15 September 2020
Chinese Merchandise Trade With Brazil Steady in First Semester