EDP – Energias do Brasil, whose parent company EDP Portugal has China Three Gorges as its largest shareholder, is buying Brazil´s Celg Transmissão S.A. (CELG-T) for USD 365 million.
According to a statement by EDP, its Brazilian subsidiary won the public auction to acquire 100% of the capital of Celg Transmissão S.A., for BRL 1.977 billion,
CELG-T has a grid of 755.5 kilometres and operates 14 substations, located predominantly in the state of Goiás.
EDP adds that the concession term covers a period up to 2043 and 2046 and that the annual allowed revenue is BRL 223 million, relating to the 2021/2022 cycle.
EDP added that this transaction is in line with its growth strategy in regulated electricity networks in Brazil.
The transaction is pending applicable regulatory approvals. EDP owns 54.89% of EDP – Energias do Brasil.
Other articles
Brazil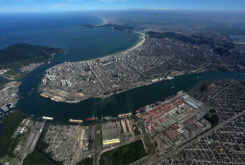 24 May 2023
Artificial intelligence and machine learning resolving China-Brazil "logistics bottlenecks"