The New Development Bank´s (also known as "BRICS Bank") regional office for the Americas, based in the city of São Paulo, has been approved by Brazilian lawmakers.
In a remote session this Tuesday (14), the Brazilian Senate approved the Legislative Decree Project (PDL) 657/2019, which endorses the agreement signed between Brazil and the New Development Bank for the creation of the regional office in São Paulo, with a representation unit in Brasília, and the matter will be sent to the President.
The NDB is based in Shanghai, China, and was created in 2014 during the 6th Brazil, Russia, India, China and South Africa (BRICS) Summit – with the goal of mobilizing resources for infrastructure projects and sustainable development in those countries.
In addition to prospecting for projects in Brazil, the new office will make it easier for NDB in the future to raise funds in the Brazilian financial market, to finance projects in local currency, in order to reduce the foreign exchange risk of its operations.
Since the bank was established in 2015, Brazil has been awarded USD 621 million in loans for four projects, worth 10.8% of the NDB portfolio.
The bank lent approximately USD 300 million to the Brazilian National Bank for Economic and Social Development (BNDES), to finance projects in the area of ​​wind energy.
The agreement also includes a clause on financial transactions; immunities and privileges of the director general and employees; immunities and privileges of governors, directors and representatives of bank members; immunity and privileges of experts and consultants; local employees, to be hired in accordance with Brazilian labor legislation; spouse jobs, which must be the subject of a separate agreement; waiver of immunity; dispute settlement, preferably by amicable way; interpretation, entry into force, amendments and termination.
According to Agencia Senado, the explanatory memorandum signed by the ministries of Foreign Affairs and Economy, related to the agreement, highlights that the creation of the regional office aims to intensify the activities of NDB in Brazil, through better identification and preparation of projects to be evaluated by the bank.
Due to the physical distance from the bank's headquarters in Shanghai, and its employees' unfamiliarity with Brazil's regulatory and federative framework, few projects in the country have been approved when compared to other NDB members.
Brazilian Marcos Troyjo, was named in May to head the New Development Bank.
Photo: Brazilian remote session for approval of NDB office (Agencia Senado)
Other articles
Brazil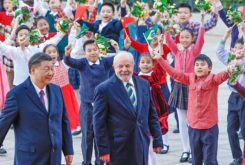 26 September 2023
China To Deepen Practical Cooperation With Brazil in All Areas
Brazil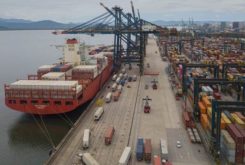 19 September 2023
China Fuels Record Brazilian Agricultural Exports