Exports of Brazilian beef and soy to China, the country´s main trading partner, rose significantly in May, according to official data.
The Brazilian Refrigerators Association (Abrafrigo), based on data from the federal government, reports that in May China's participation in Brazilian beef exports reached 56.5% of the total. Mainland China processed 39.3% of inflows, more than doubling its processing of the product, and Hong Kong 17.2%.
According to Abrafrigo, China was the main driver of a 21% increase in Brazilian exports in May, compared to the same period last year.
Considering the raw and processed product, shipments from the country totaled 183,018 tons last month against 151,270 tons in May 2019.
In the accumulated result of the first five months of the year, there was an increase of 5.42% in the total volume of beef exported, rising from 695,151 tons in 2019 to 732,859 tons in 2020.
According to official Government data, China's soy imports jumped 27.4% year-on-year in May, as a large volume of Brazilian shipments arrived, after a slow start of the year.
China, the largest global soy importer, imported 9.38 million tons of soy in May, compared to 7.36 million tons in the previous year. That compares to 6.714 million tons imported in April.
Rains in late February delayed Brazil's harvest and exports, which impacted landings in March and April.
Market operators also expect massive soy imports in June and July, above 9 million tonnes per month, a level much higher than usual.
Photo: Brazilian soy crop
Other articles
Brazil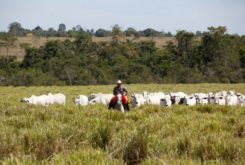 07 July 2020
Brazil's Meat Exporters Propose Additional Tests to Avoid China Bans