A Chinese Communist Party (PCC) delegation visited Cabo Verde do "deepen friendship" and strengthen cooperation with the authorities of the African archipelago.
Deputy Director General of African Affairs and former Deputy Minister of Foreign Affairs of China, Wang Xueyong, met in Praia with the Vice President of the National Assembly of Cabo Verde, who is also President of the China-CV Friendship Group, Armindo Luz.
"Our visit to Cape Verde aims to deepen our friendship and strengthen cooperation between the two countries", Wang said, underlining that the main purpose of the delegation was to present to Cabo Verdean authorities the decisions of the 20th National Congress of the PCC.
Cabo Verde aiming to "strengthen good partnership" with China
This was the first visit by a PCC delegation after its 20th National Congress, held last October, and also the first after the outbreak of the covid-19 pandemic three years ago, which demonstrates a "special friendship" between the two countries, Wang said.
The congress was a crucial moment and has "historical significance", the PCC official underlined.
On the part of Cabo Verde, the vice-president of the National Assembly highlighted the "fruitful" bilateral partnerships, pointing as an example the construction of the Palace of the Assembly (pictured above), the campus of the University of Cape Verde, as well as the National Stadium.
Cabo Verde Minister of Health to take over Embassy in Beijing
"The two countries are increasingly raising their levels of cooperation and friendship", Luz stressed.
The meeting preceded the seminar on the "Congress of the Chinese Communist Party", where the PCC program for the next five years was transmitted.
On behalf of the Embassy of the People's Republic of China in Cabo Verde, Ambassador Xu Jie, highlighted among the decisions of the congress that China wants to make new contributions to global peace and development.
Other articles
Cabo Verde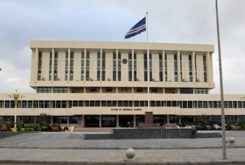 26 April 2023
Legal Update/Cabo Verde: National Strategy for the Prevention and Combat of Money Laundering