China's central bank has signed a memorandum of understanding on setting up yuan clearing arrangements in Brazil, in a move to help boost the currency's global clout.
The establishment of such arrangements for the renminbi (RMB), or the yuan, would be beneficial to cross-border transactions, and further promote bilateral trade and investment facilitation, the People's Bank of China said.
China has in recent months signed similar yuan clearing deals with Pakistan, Kazakhstan and Laos.
New Brazilian President willing to expand relations with China
Two-way trade between China and Brazil reached USD 172 billion in 2022, according to data from Chinese customs.
Brazil is the Asian country's largest trading partner in Latin America, where bilateral trade volume has exceeded USD 100 billion four years in a row. China is Brazil's biggest trading partner for 13 consecutive years.
China has been trying to boost the yuan globally since 2009 to reduce reliance on the U.S. dollar in trade and investment settlements and challenge the greenback's role as the world's major reserve currency.
Other articles
Brazil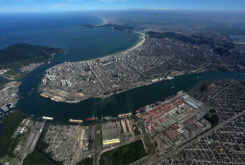 24 May 2023
Artificial intelligence and machine learning resolving China-Brazil "logistics bottlenecks"