China will waive the 23 interest-free loans for 17 African countries that had matured by the end of 2021, according to Chinese Foreign Minister Wang Yi.
Wang (pictured above) attended a virtual conference to discuss progress following last November's Forum on China-Africa Cooperation (FOCAC) summit in Senegal, a high-level forum between China and nearly all the African countries.
The Chinese minister said the "implementation of the outcomes of the conference is progressing well, bringing tangible benefits to Africa" and that China will boost cooperation with African countries in trade, infrastructure and education while maintaining regional peace and stability. He also called for high-quality construction of the Belt and Road Initiative.
FOCAC Dakar Action Plan "more detailed and wide-reaching" than previous ones
"We will work with Africa to fully implement the "nine programs" and advance high-quality Belt and Road cooperation. China will waive the 23 interest-free loans for 17 African countries that had matured by the end of 2021″, Wang said.
"China will continue to actively support and participate in the construction of major infrastructure in Africa through financing, investment and assistance. We will also continue to increase imports from Africa, support the greater development of Africa's agricultural and manufacturing sectors, and expand cooperation in emerging industries such as the digital economy, health, green and low-carbon sectors", the minister added.
China, Wand highlighted, has started developing a pool of global development projects, and welcomes application from African countries with prospective projects. "To help address food shortage in Africa, the Chinese government has decided to provide, within this year, a new tranche of food assistance to the 17 African countries in need, and will encourage more Chinese firms to invest in agricultural production and processing in Africa to help realize food self-sufficiency", he said.
China eliminates customs duties for 98% of products imported from 16 developing countries, including Mozambique
Foreign ministers from Senegal and Egypt, as well as African countries' ambassadors to China also attended the meeting.
Maria Gustava, Mozambique's Ambassador to China told CGTN that Chinese projects in Africa"have been changing the life of the people in Africa". She highlighted cooperation in health and vaccines, climate change and infrastructure.
"The infrastructure they bring changes the economy and allows industrialization because, without the infrastructure, there's no way that the country can develop, can attract investment", Gustava added.
Other articles
Angola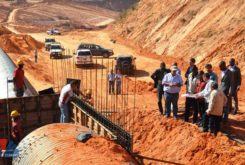 31 May 2023
African Development Bank to manage in Angola USD 50 million credit facility provided by China
Angola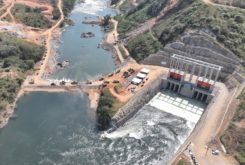 25 May 2023
Angola's 'Three Gorges' Hydro Dam Begins Main Construction Phase