China wants to become 'partner-of-choice' for African governments in the battle against Covid-19, especially those that produce commodities necessary under Made in China 2025 strategy, according to the Economist Intelligence Unit (EIU).
The Africa Centres for Disease Control and Prevention (AC-DCP), the African Union (AU) public health body, the EIU says, "would probably be receptive to any Chinese offer to deliver extra vaccine shipments to Africa in 2021, particularly in view of constraints regarding cold-chain logistics, which many African countries would struggle to overcome".
Under the international COVAX facility set up to ensure equitable international distribution of Covid-19 vaccines, developing nations face a scenario where only about 20% of their citizens would receive inoculation by end-2021.
Despite the AC-DCP's need, the EIU says it is "wary about the risk of China overpromising on but underdelivering its manufactured vaccine to key partners next year".
At the end of 2020, China's ambassador to Ethiopia attended the ground-breaking ceremony for work to begin on the new headquarters of the AC-DCP, near the Ethiopian capital, Addis Ababa.
The site will cover some 90,000 square metres and include an emergency operation centre, data centre, laboratory, resource centre, briefing rooms, training centre, conference centre, offices and apartments for expatriate workers; these facilities are all to be constructed, furnished and equipped at China's expense.
China claims that the headquarters will be one of the best-equipped centres to tackle disease on the continent, which will allow the AU's public health body to coordinate with member states' Ministries of Health at a much higher level.
Following the outbreak of the coronavirus (Covid-19) pandemic in early 2020, China has been keen to show itself as a global leader in the fight against the disease, particularly in developing market and, the EIU says, "has already sent health teams to 16 African states as part of this drive, which is meant to burnish its international reputation among countries struggling under the economic and humanitarian effects of the crisis".
"China's plans to assist in the global Covid-19 vaccine rollout, including by distributing its own manufactured vaccines (primarily to developing nations), also dovetail with this strategy", it adds.
According to the EIU, in 2021 "China will continue to portray itself to pan-African institutions (and parts of the continent where it seeks influence) as the partner-of-choice for African governments in the battle against Covid-19, despite risks of diplomatic blowback, should its vaccine diplomacy fail".
"In particular, China will focus these efforts on countries that are home to the commodities that it needs under Made in China 2025—a strategic plan to further develop its manufacturing sector", the report states.
Other articles
Uncategorized
20 March 2023
Japan pledges to support USD 530 million port development project in Angola
Timor-Leste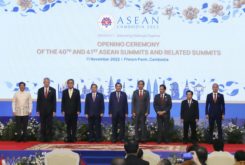 07 February 2023
Timor-Leste represented for the first time at an ASEAN Coordination Council meeting