China Three Gorges Corp. is emerging as the leading bidder for Spanish solar park assets owned by X-Elio Energy SL, in what could become one of the few Chinese acquisitions in Europe this year.
After edging out other potential buyers, the state-owned firm is in advanced talks to acquire 13 photovoltaic power stations from X-Elio valued at 500 million euros ($571 million) to 600 million euros, according to Bloomberg.
Chinese companies have shown an interest in expanding in the Iberian peninsula. Shanghai Electric was previously pursuing Spanish renewable energy assets owned by construction firm ACS that ended up being bought by Portugal´s Galp Energia SGPS SA.
Three Gorges last year called off a $10 billion takeover of EDP-Energias de Portugal SA.
Three Gorges and the Spanish renewable developer are hammering out final terms of an agreement and could announce a deal as soon as the next few days, the people said.
Other bidders remain interested in the assets, according to the people. Shanghai Electric Power Co., another state-backed electricity generator, was also among the shortlisted bidders for the portfolio.
An agreement would represent a rare overseas deal by a Chinese company as governments in Europe and the U.S. stepped up scrutiny on investments amid escalating political tensions.
The volume of Chinese outbound acquisitions fell 34% in the first half of the year to $24.5 billion, the lowest tally for that period since 2012, according to data compiled by Bloomberg.
Founded in 2005, Madrid-based X-Elio runs 41 solar plants and operates in 12 countries, according to its website. The company is co-owned by Brookfield Renewable Partners LP and private equity firm KKR & Co.
Photo: Solar park, Spain
Other articles
Brazil
21 September 2020
China Offers Brazil "New Highland" of Scientific and Innovation Cooperation, Including 5G
China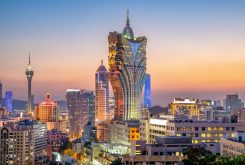 21 September 2020
Macau to Recover in 2021, Reliant on Chinese Tourism