The Chinese Embassy in Brazil accuses the United States of "grossly interfering" in its relations with Brazil by appealing for the South American country to ban Huawei from the development of its 5G networks.
The accusation came in a statement issued on Friday, in a response to US Under Secretary for Economic Growth, Energy and the Environment, Keith Krach, calling on Brazil to renounce Huawei, in an op-ed article published by Brazil's O Globo.
Krach´s article, says the Chinese Embassy, contains "malicious defamations and political manipulations", seeking to discredit Huawei, and "grossly interferes with normal Sino-Brazilian cooperation".
"Huawei, a world-renowned private company, has no cybersecurity incidents, no case of espionage and surveillance in the information network, equipment and services provided to more than 170 countries and territories" and "there is also no evidence that the company's products have devices for this purpose, the so-called 'backdoor'", the Embassy says.
According to the statement, "the United States, for its part, has a scandalous cybersecurity record" , namely the US National Security Agency´s (NSA) alleged use of surveillance backdoors into equipment and devices produced by US firms, allowing it to collect highly sensitive information from companies and users, and even national presidents, in various countries, including those in Latin America.
"In addition, they have used state power to curb Chinese high-tech companies, under the pretext of preserving national security, interfering in the choice of 5G supplier in other countries", using "deceit, intimidation, coercion" to maintain its cyber surveillance network and digital hegemony".
"These practices, typical of technological bullying, are a gross violation of the rules of international trade cooperation, the principles of world trade and the rules of the market," the Embassy underlined.
Brazil has been under heavy pressure from the US government to veto Huawei's technology, a decision that will be taken by President Jair Bolsonaro, who has already said that 5G is also a matter of "foreign policy".
Brazil's vice president, Hamilton Mourão, recently said that no network provider could be banned from the country and he pointed out that Huawei equipment has been used in Brazilian networks for years and that more than a third of the nation's 4G networks already use the company's systems.
The vice president also said that Brazil does not fear possible retaliation from the US, arguing that the country does not share sensitive security information with Washington.
Last week, US Under Secretary for Economic Growth, Energy and the Environment, Keith Krach called Huawei "the backbone of China's worldwide surveillance state", saying the US will stand with "Brazilian partners against any Chinese coercion or bullying".
The official also said 5G networks are critical to a country's "most sensitive personal, commercial, and governmental data" and listed Sweden's Ericsson, Finland's Nokia and Samsung from South Korea as trusted firms.
"[Huawei] presents itself as a private and independent company, yet it must abide by China's National Intelligence Law by turning over private citizen and business data to the Chinese government upon request", Krach added in his op-ed.
"This means any nation that trusts Huawei with its communications networks gives the Chinese government a key that can unlock the door to any data that crosses those networks, including text messages, intellectual property, and sensitive business and government communications," he added.
Beijing has slammed U.S. warnings of "consequences" if Brazil chooses Chinese telecom company Huawei to develop its 5G network, accusing Washington of "unscrupulous oppression" of the Chinese tech companies.
Photo: President of Brazil, Jair Bolsonaro, and Chinese ambassador to Brazil, Yang Wanming
Other articles
Brazil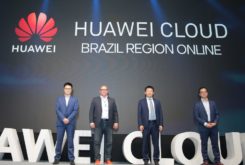 23 September 2020
Huawei´s Fortunes in Brazil 5G Auction Influenced by U.S. Election
Brazil
21 September 2020
China Offers Brazil "New Highland" of Scientific and Innovation Cooperation, Including 5G