China is prioritizing commercial loans for its companies' projects in Brazil and other Latin American countries, not issuing any state-to-state loans over the past two years.
Since 2005, China's policy banks have been lending to countries in Latin America and the Caribbean, with the top three recipients being Brazil, Ecuador and Venezuela, often with conditions guaranteeing Beijing access to those countries' natural resources. The region borrowed USD 138 billion from the China Development Bank and the Export-Import Bank (Exim) of China, distributed in 117 loans throughout the region.
More recently, Chinese banks are focused on financing Chinese firms that operate in the region, according to a March report by the Inter-American Dialogue and the Boston University Global Development Center.
New historic record for trade between Brazil and China in 2021
Two decades ago, Chinese firms "had no connection to the region at all. They knew nobody. They didn't understand the operating environments [or] the investment environments," Margaret Myers, one of the authors of the report and director of the Asia and Latin America Program at the Inter-American Dialogue in Washington, told VOA. So, the earlier strategy of conditional lending to countries "was a sort of natural means by which to help Chinese companies to establish."
Now, Myers adds, the Chinese companies "have the network in place, right, so, they don't need that assistance anymore. They can strike their own deals. They can find their own opportunities, and now, they simply need the finance in place to be able to make all of that happen. So, it's a very different mechanism."
China's policy banks stopped offering new loans to Latin American governments in 2020. Instead, the new Chinese financial approach to the region is focused on private financing initiatives in the energy, mining, and infrastructure sectors. In 2020 and 2021, Chinese state-owned commercial banks, which include the Industrial and Commercial Bank of China, provided 12 loans in Argentina, Brazil, Colombia, Mexico and Peru. These loans are devoted to projects with a Chinese component such as a Chinese firm working in partnership with a local company.
Brazil and China miss deadline to renew key bilateral strategic frameworks
Myers said China's brake on lending to regional governments may have been driven in part by concerns over the ability of those governments to repay their debts. "China has faced this problem prior to the pandemic, and during the pandemic it's become even more of a challenge," she said. "We've seen efforts by China to restructure the terms of a few of the tranches of debt in Venezuela and also in Ecuador."
Jorge Heine, a member of the China Global Initiative at Boston University's Global Development Policy Center, told VOA that another reason that China shifted its lending in Latin American from governments to companies was so that Beijing could "concentrate more on [domestic] development and internal investment in the coming years."
"Chinese companies have realized that to participate in projects in Latin America they have to be able to win them in open tenders, open contests, because, if not, they will not have access to the projects," Heine said.
Other articles
Brazil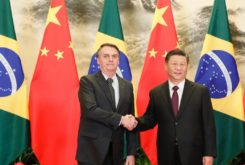 28 June 2022
Brazilian president praises China at BRICS summit