China presented a proposal to the Angolan State that aims to apply a zero-tariff scheme to 98% of Angolan goods exported to the Chinese market.
Angolan-Chinese bilateral trade was evalutated during a recent meeting in Luanda between the African country´s Secretary of State for International Cooperation, Domingos Lopes, and the Ambassador of the People's Republic of China to Angola, Gong Tao.
According to a statement released by the Customs Tariff Commission of the Chinese State Council in August, China will grant zero-tariff treatment on 98 percent of taxable items originating in 16 least-developed countries. Effective on Sept 1, the policy will help share market opportunities with those countries, the statement said.
China eliminates customs duties for 98% of products imported from 16 developing countries, including Mozambique
The donation of a laboratory for testing narcotic products was also a topic of conversation during the meeting in Luanda. With regard to cooperation in the Security chapter, Gong Tao requested that a joint tripartite coordination meeting be held at the headquarters of the Ministry of Interior, in Luanda.
At the hearing, the Chinese ambassador (pictured above, next to Angolan President João Lourenço) expressed his country's desire to receive the Angolan State's counter-proposal regarding the Protocol on the Dispatch of the Chinese Medical Team to Angola.
The occasion also served for the Secretary of State to provide a brief information on the holding of the X Summit of Heads of State and Government of the Organization of African, Caribbean and Pacific States, scheduled for December this year, in the Angolan capital.
Angola accelerates plan to repay USD18 billion debt to China
Angola and China have maintained excellent diplomatic relations for 40 years and a strategic partnership that is intended to continue to solidify in all areas.
Other articles
Angola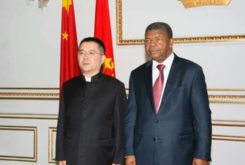 28 November 2022
China to strengthen "strategic alignment" with Angola in human resource training and youth employment
Angola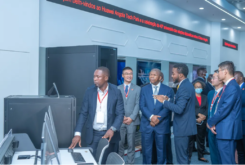 16 November 2022
Huawei "Tech Park" in Luanda to train 10,000 Angolans