China Machinery Engineering Corporation (CMEC) is prepared for a possible exit by GE from a joint 300MW coal-fired power project and coal mine in Mozambique´s Tete province, promoter Ncondezi Energy has said.
After GE recently announced that it was exiting the global coal-power market, Ncondezi Energy said it had not received any notice of change to the joint development agreement for its namesake power project in Mozambique.
"In the event that a new technology partner is required, CMEC has put in place a contingency plan and compiled a preferred list of partners who are familiar with the project," Ncondezi said. "CMEC has indicated that such a process would take one month to complete if required", it added.
According to Ncondezi, "in the meantime there is no change to the timeline for critical project work streams, including the historical cost audit and tariff negotiations, which are progressing positively."
Chief executive Hanno Pengilly said the technology partner, GE, "has no impact on the planned Project financing."
"Work continues at pace across all our workstreams and we look forward to providing further positive updates on the Project in the coming weeks.", Pengilly said.
In August, Ncondezi Energy Limited submitted to Mozambique´s electricity utility, EDM, the Transmission Integration Study for its coal-fired power project.
Photo: Signing of Cooperation Agreement between CMEC and GE for Ncondezi Project, August 2019 (CMEC)
Other articles
Brazil
28 October 2020
China´s Aliexpress to Profit from E-commerce Boom in Brazil
Brazil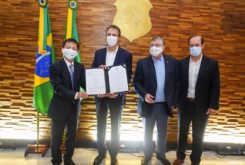 27 October 2020
China's MingYang Smart Energy to Launch Pilot Offshore Wind Project in Brazil