Both of Mozambique's giant onshore LNG projects have taken big steps towards development. Total has completed its purchase of a large stake in Mozambique LNG and has proposed doubling the size of the venture, while the engineering, procurement and construction (EPC) contract for Rovuma LNG has now been awarded, as Maputo moves closer to its ambition of overseeing the commercial development of gas reserves in the Rovuma Basin.
Mozambique's emergence as an LNG producer of global importance is of huge significance to Beijing, as much of the liquefied gas is expected to be shipped to Chinese import terminals, including to China National Offshore Oil Corporation (CNOOC). At the same time, China National Oil and Gas Exploration and Development Corporation (CNODC) and China National Petroleum Corporation (CNPC) have both invested in the two onshore LNG projects.
CNPC and CNOOC's inclusion on the Rovuma LNG and Mozambique LNG consortia respectively are some of the first equity investments by Chinese companies in LNG schemes, following in the footsteps of Indian and particularly Japanese companies who have helped develop and also been important customers for a string of LNG projects. It will be interesting to see whether the Chinese companies step up this strategy as China's LNG imports rocket and the country threatens Japan's position as the world's biggest liquefied gas importer.
Total formally bought Anadarko's 26.5% stake in Mozambique LNG, as well as the position of operator, at the end of September. Occidental took over Anadarko but decided to sell the latter's African assets in order to part finance the deal. The French firm paid US$3.9 billion for the Mozambican assets and is waiting for regulatory approval for its purchase of Anadarko's Algerian and Ghanaian operations. Total's chief financial officer, Jean-Pierre Sbraire, described the Mozambican operations as the "jewel" in Anadarko's African assets. According to Mozambican newspaper O País, the government of Mozambique hopes to earn US$880 million in capital gains tax from the deal.
Total chief executive Patrick Pouyanné said: "Mozambique LNG is one of a kind asset that perfectly fits with our strategy and expands our position in liquefied natural gas. As the new operator, we are fully committed to the Mozambique LNG project." Mozambique LNG currently consists of two trains with combined production capacity of 12.88 million tonnes/year but the US$23 billion project has been planned with the option of adding extra trains – as LNG processing units are known – in mind. Total has now revealed that it is considering expanding the venture from two to four trains.
In November, Mike Sangster, head of Total Exploration and Production in Nigeria, said that the gas reserves needed to justify the expansion "were clearly there". The Mozambique LNG consortium intends to develop 18 trillion cu ft of natural gas on the Atum and Golfinho fields to supply the two trains but the offshore block that will supply the project already has proven reserves of 60 trillion cu ft, so it seems reasonable to assume that six trains are possible, even allowing for some gas to be supplied to the domestic Mozambican market.
The final investment decision was taken on the venture in June, after 86% of production capacity was tied up in long term contracts with Asian customers, the price of which is tied to oil prices. The long term contracts were signed with CNOOC, plus Bharat Petroleum, Centrica, CPC Corporation, Electricité de France, JERA, Pertamina, Shell, Tohoku Electric and Tokyo Gas. The remaining 14% will be sold on the spot markets. There has been a growing trend of LNG projects focusing on the spot markets, as the sector becomes a lot more flexible and responsive to fluctuating demand, so having such extra capacity could actually be an advantage.
Financing agreed
Funding for the project is now falling into place. In October, the US Export-Import (Exim) Bank agreed to lend the scheme up to US$5 billion to support the export of US equipment and services. Exim Bank president and chair Kimberly Reed, who said that China could also have provided funding, said: "Private financing was not available for this project given its size, complexity, and risk – necessitating support from Exim."
In late November, the African Development Bank (AfDB) agreed to lend a further US$400 million. This is a helpful contribution to total investment costs but the backing of a large multilateral is particularly useful in terms of securing financing from commercial banks because of the due diligence that must be carried out.
The AfDB hopes to ensure that the project benefits the people of Mozambique. Its Integrated Safeguards System is designed to ensure that projects comply with a range of social and environmental requirements, including on benefitting local supply chains and creating jobs, plus international transparency standards. Bank president Akinwumi Adesina said: "We can ensure that the local population reaps the benefits from its nascent natural gas value chain, thus creating growth opportunities and widespread industrialisation, while at the same time accelerating regional integration across Southern Africa."
Mozambique LNG's trains are to be built at Afungi in the far north of the country, on a site shared with the rival Rovuma LNG consortium. Pouyanné said that it was possible that the two groups could share more infrastructure. Joint development can simplify the permit application process and also cut costs.
The other members of the consortium are Mitsui E&P (20%), Mozambique's state-owned oil company Empresa Nacional de Hidrocarbonetos (ENH) (15%), ONGC Videsh (10%), Beas Rovuma Energy (10%), BPRL Ventures (10%) and PTTEP (8.5%). Total will have invested in 10% of global LNG production capacity by the end of next year, including in Angola, with China taking an increasing proportion of its output.
There could be one unexpected customer for gas from Mozambique LNG – Mozambique itself. In late November, Total signed a joint development agreement with South African firm Gigajoule on shipping liquefied gas to the Port of Maputo. It would be received at a floating storage and regasification unit (FSRU), a vessel to be moored in the harbour that would turn LNG back into natural gas.
It is interesting that the decision has been taken use LNG rather than a pipeline running from the north to the south of Mozambique, as the distance involved – 2,100km – suggests that a pipeline could be a cheaper option. Gigajoule had signed a memorandum of understanding with ENH in 2013 regarding the construction of a north-south line. However, the decision to opt for LNG could have been influenced by security concerns and the possibility that the deal will involve a relatively small volume of gas. The gas would replace production from the Pande and Temane fields, which South African firm Sasol operates in southern Mozambique, but on which output is due to decline from 2023. Some of it could also be used to supply a planned 2 GW power plant on the edge of Maputo.
Mixed fortunes on Rovuma LNG
The first shipment from Mozambique LNG is expected in 2024, one year before Rovuma LNG comes on stream. The final investment decision on the US$30 billion scheme was expected to be taken before the end of 2019 but in October ExxonMobil announced that the decision will now be pushed back until the third quarter of 2019. Rovuma LNG is 70% owned by Mozambique Rovuma Venture, which in turn is owned by Eni (35.7%), ExxonMobil (35.7%) and CNODC (28.6%). Kogas, Galp Energia and ENH each own 10% stakes. Gas will be supplied to Rovuma LNG from the Mamba complex of fields on Area 4.
Like Mozambique LNG, two trains – in this case with production capacity of 15.2 million tonnes/year – will be developed in the first instance but more are expected in the long run. In October, the EPC contract on Rovuma LNG was awarded to a consortium of JGC, Fluor and TechnipFMC, allowing US$500 million worth of preliminary work to begin. People living on the site of the LNG plant are already in the process of being resettled.
Most similar projects have a single operator but on Rovuma LNG Eni is the operator for upstream – or gas field – development, while ExxonMobil is leading the development of the LNG plant itself. US firm ExxonMobil became involved following a US$2.8 billion deal with Eni at the end of 2017.
The first LNG is expected to be exported from Mozambique in 2022, when the Coral floating LNG (FLNG) project comes on stream. Coral will be one of the world's first floating LNG projects. They involve piping natural gas from offshore wells to a huge vessel where it can be liquefied and then offloaded on to waiting LNG carriers for export, without ever having to be piped onshore.
This approach is relatively new and avoids the construction of expensive onshore infrastructure; it is also more secure in conflict areas. Operator Eni's decision to opt for FLNG for Coral is proving a distinct advantage the longer the apparent Islamist insurgency in the far north of Mozambique continues. On 13 November, an attack took place on the village of Nsemo, which lies just a few kilometres from the Afungi plant site. Contractors have been forced to change their travel plans to avoid the most targeted road.
While Coral LNG will make a useful contribution to the Mozambican economy, the two onshore LNG projects will be much bigger, with even initial investment of US$53 billion, a huge sum considering that Mozambique's entire GDP is just US$12 billion. The three schemes will give Mozambique production capacity of 31 million tonnes/year by 2025, equivalent to 10% of total global capacity. Analysts Rystad Energy forecast in November that the government will earn US$16 billion in LNG royalties by 2040.
Qatar, Australia and the United States look set to be the three biggest LNG producers in the world over the next decade, with Mozambique some way behind that triumvirate but with the resources to position itself in a group of the next biggest producers, alongside Nigeria, Malaysia and Russia.
Other articles
Angola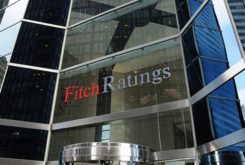 08 July 2020
Angola and Mozambique Fiscally "Vulnerable" – Fitch Ratings
Mozambique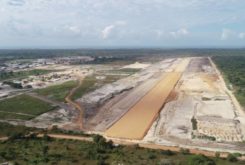 06 July 2020
Total and Mitsui Complete 15.8 billion Financing for Mozambique LNG Project – Government