Brazilian meat giant JBS SA played down the effects of COVID-19-related lockdowns in China, saying they would not affect demand for JBS products despite causing logistics concerns.
JBS posted a first-quarter profit that beat expectations in spite of higher global grain prices and lower pork exports to China, with the U.S. beef and poultry business performing well, according to management remarks.
China is seen as a long-term beef importer due to its low per capita consumption levels, JBS said.
Credit Suisse analysts said they remain positive on JBS's investment case, as they believe "operating momentum will remain solid in the coming quarters."
While sales grew by double-digit levels across all business units in the first quarter, JBS recognized a challenging scenario in Brazil, its home market.
In the South American nation, where the 12-month inflation rate stood at 12.1% through April, demand for beef is at historical lows due to high unemployment and an economic downturn.
Other articles
Brazil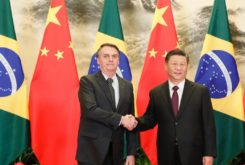 28 June 2022
Brazilian president praises China at BRICS summit