Brazil does not fear retaliation from the U.S. if it chooses China's Huawei for 5G development in the country, the country´s vice president, Hamilton Mourão, has said.
Mourão spoke on Monday at a news conference with foreign correspondents in São Paulo, a week after the U.S. ambassador to Brasília, Todd Chapman, said, in an interview with GLOBO, that there could be possible "consequences" for Brazil if the country allows Huawei's participation in the 5G infrastructure.
Mourão described the Chinese company, which the United States accuses of spying for the Chinese government, as having "a capacity above many competitors".
About the possibility that Brazil could suffer retaliations from the U.S., Mourão said he was "not at all" fearful.
"What should be clear is that currently more than a third of what we have from the 4G operation by our communications companies already has Huawei equipment. If we ban Huawei, our operators will suffer because the equipment will need to be removed", the Brazilian vice president added.
Because of his comments, on Tuesday Mourão was the target of harsh criticism from supporters of the president, Jair Bolsonaro, namely influential blogger Allan dos Santos, and Sara Giromini (aka Sara Winter).
Mourão visited Beijing in 2019, on a mission to patch up wounds caused by President Bolsonaro's anti-China rhetoric. He met with President Xi Jinping, who would later meet Bolsonaro himself in November, in Brasilia, for the BRICS summit.
Beijing has slammed U.S. warnings of "consequences" if Brazil chooses Chinese telecom company Huawei to develop its 5G network, accusing Washington of "unscrupulous oppression" of the Chinese tech companies.
Photo: Brazilian Vice-President Hamilton Mourão (left) during a visit to Beijing in 2019
Other articles
Brazil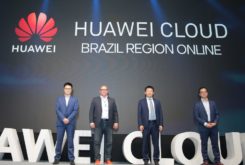 23 September 2020
Huawei´s Fortunes in Brazil 5G Auction Influenced by U.S. Election
Brazil
21 September 2020
China Offers Brazil "New Highland" of Scientific and Innovation Cooperation, Including 5G