Brazilian President Jair Bolsonaro says that it will be up to him only to decide on the implementation of the fifth generation mobile internet (5G) in Brazil, while the U.S. calls on the country to ban China from its networks.
"To make it clear, I am the one who will decide on 5G. Not any third party, no one guessing around, no. I will decide 5G", said the president, during a broadcast on social networks.
The auction by the National Telecommunications Agency (Anatel) for the new 5G telecommunications frequencies was postponed to 2021 due to the pandemic.
The auction parameters are defined by Anatel – which, according to the General Telecommunications Law, enjoys "administrative independence, absence of hierarchical subordination, fixed mandate and stability of its leaders and financial autonomy".
There are, however, debates about 5G technology on topics such as national security, espionage and data privacy, matters which fall upon government intelligence and the Presidency itself.
Bolsonaro also said that he talks with government officials, and with "governments of other countries" about the pros and cons of the available models.
"It's not in my head, only. I talk to General Augusto Heleno, from GSI, I talk to Ramagem, who is the head of Abin [Brazilian Intelligence Agency], I talk to Rolando Alexandre, who is the director general of the Federal Police, with the most intelligence in Brazil, with more experienced people", said Bolsonaro.
The president continued: "I talk to the American government, I talk to various entities, countries, you know, what we have for and against," he said.
"We are a powerhouse. We have to have a robust intelligence system to be able to work there at the front", said Bolsonaro.
The new 5G technology allows connections about 10 times faster than 4G and is considered fundamental for the so-called "internet of things", with the automation of houses, vehicles and objects of daily use.
One of the main patent holders in 5G is the Chinese company Huawei, which faces restrictions in the United States and England and is accused of maintaining links with the Chinese Communist Party.
Beijing has slammed U.S. warnings of "consequences" if Brazil chooses Chinese telecom company Huawei to develop its 5G network, accusing Washington of "unscrupulous oppression" of the Chinese tech companies.
Other articles
Brazil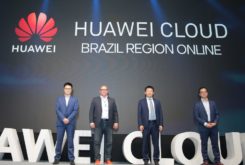 23 September 2020
Huawei´s Fortunes in Brazil 5G Auction Influenced by U.S. Election
Brazil
21 September 2020
China Offers Brazil "New Highland" of Scientific and Innovation Cooperation, Including 5G