Brazilian miner Vale SA has teamed up with China's Zhoushan Port Company Ltd to build and operate Project West III in the port of Shulanghu, a strategic logistics alliance to serve the world's largest iron ore importer.
In a securities filing on Friday, Vale said it will have 50% of the JV, adding the port project expansion will demand multi-annual investments of about $624 million. Both partners plan to obtain financing for up to 65% of the project, the filing said.
The West III Project consists of expanding the facilities at the Shulanghu Port, developing a storage yard and loading berths with an additional capacity of 20 millions of metric tones per year (MTPa).
By participating in the project, Vale said it will guarantee a total port capacity of 40Mtpa in Shulanghu, which will help Vale to optimize costs in its value chain, according to the filing.
Construction, which is expected to take up to three years, will start after the parties obtain anti-trust and other regulatory approvals in China.
"The project secures strategic port capacity for Vale in China, as Shulanghu port handles Valemaxes and allows Vale to optimize shipping and distribution costs," the statement said.
The Chinese market has been decisive in supporting the Latin American metals and mining sector during the pandemic, as demand in other regions suffered from the severe economic impacts.
The second half performance of Latin American metals and mining companies is likely to be strong due to robust steel output in China that has boosted prices for products such as iron ore, copper, zinc and gold, according to Fitch Ratings.
According to the agency, Latin American metals and mining revenues will continue to be highly linked to economic growth in China while the recovery of the Brazilian economy will also play a key role in the performance of its steel producers.
Other articles
Brazil
28 October 2020
China´s Aliexpress to Profit from E-commerce Boom in Brazil
Brazil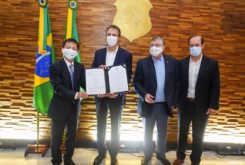 27 October 2020
China's MingYang Smart Energy to Launch Pilot Offshore Wind Project in Brazil