The Brazilian government expressed its support for the re-election of Chinese diplomat Qu Dongyu as director general of the United Nations Food and Agriculture Organization (FAO).
According to a statement released by the Brazilian Foreign Ministry, the Chinese diplomat "has acted in favor of structural reforms in the FAO" and promoted "greater support to member states for the fulfillment of the Sustainable Development Goals" agreed at the level of Nations United in 2015.
Qu (pictured above) has been at the helm of FAO since August 1, 2019 and aspires to renew his four-year term in the elections to be held by the agency next July.
Lula's return to Brazilian presidency expected to energize China-Brazil relations
The note adds that Qu's management coincides with the agenda of the government of President Luiz Inácio Lula da Silva, who took office on January 1 and wants Brazil to once again have an "active presence" at the FAO, in which the country has been almost absent since 2019, during the administration of the far-right ex-president Jair Bolsonaro.
That determination was already transmitted by the progressive Lula to Qu himself, during a meeting they held last month in Buenos Aires, on the sidelines of the Summit of the Community of Latin American and Caribbean States (Celac).
At that meeting, Lula expressed to the General Director of the FAO his firm commitment to "the fight against hunger, the promotion of food and nutritional security and the support for sustained rural and agricultural development, both in Brazil and in the world," the statement added.
Other articles
Brazil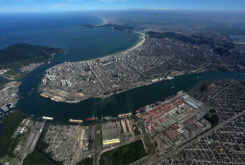 24 May 2023
Artificial intelligence and machine learning resolving China-Brazil "logistics bottlenecks"