Tensions between Australia and China are having repercussions on bilateral trade, and opening up the world´s largest market to companies from other countries. But in the mining sector, one of Brazil´s strongest, the South American country´s own problems are stopping it from gaining quota.
Prices for iron ore in China´s Qingdao port have been climbing, as the Chinese economy picks up pace, and at the end of last week the ton was valued at more than USD 100. In May, iron ore prices climbed 24% in international markets, due to concerns that the Covid-19 pandemic could cause supply disruptions.
But, according to Brazilian analysts, the country´s companies are in no condition to dethrone Australia´s as China´s main supplier.
"China is not expected to impose new restrictions on Australia, because it would not be able to buy ore from other regions", Itau BBA analyst Daniel Sasson told newspaper Estado de São Paulo. Another analyst, who asked not to be identified, added that the spread of the Covid-19 pandemic in Brazil has stopped operations at mines owned by Vale, the country´s largest ore producer, compromising output.
Starting in June, China's customs officials are imposing new inspection procedures and rules, which could be used to block or hold up Australian shipments.
The Chinese Communist party-run Global Times newspaper warned that Australian iron ore imports could be damaged by worsening political tensions between Canberra and Beijing. "This is another implicit warning to Australia," Yu Lei, a chief research fellow at the Research Center for Pacific Island Countries at Liaocheng University, told the paper. "It is associated with how Australia has acted (demanding explanations from Beijing regarding the origins of Covid-19), and a general decline in demand for steel on the global level."
China's customs move follows an 80% tariff imposed on Australia barley over allegations of anti-dumping law breaches and the banning of beef imports from four abattoirs over technical and labelling infringements.
China is the largest consumer of iron ore in the world. It brought in 358.4m tonnes of the steelmaking ingredient in the first four months of the year as demand from mills surged.
Currently, Australia has a quota of over 60% of Chinese ore imports. Rio Tinto, from Australia, and Vale, from Brazil, are world leaders in the mining sector.
According to Brazil´s latest GDP data, the extractive industry grew by 4.8%, but due to the oil and gas sector – mining activity actually dropped. In the first quarter, Vale had a 18.2% drop in production.
Photo: Iron ore loading facility
Other articles
Brazil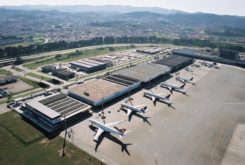 10 July 2020
Air China Postpones Brazil Flights to September, at Least