Brazil is able to 'expand and diversify' its offer of products to China, according to the South American country's minister of Agriculture, Livestock and Supply, Tereza Cristina.
During a videoconference for the Brazil-China Dialogue on Sustainable Agriculture, organized by the Brazil-China Business Council and China's Institute of Finance and Sustainability (IFS), Cristina underlined the close ties between the two countries in agriculture and food.
Brazil and China maintain "a relationship of trust in unfailing delivery, with quality, safety and sustainability", Cristina said.
Brazil sees the potential to expand and diversify its exports to the Chinese market, and "we are fully aware that consumers in China, like those in Brazil, are increasingly concerned about sustainability issues," said Cristina.
Today, Brazil supplies more than one billion people in 180 markets with agricultural products, meaning that "out of every four dishes of food served in the world, one has ingredients originating from Brazil," according to the minister.
Since the 1970s, Brazil's cereal production has increased by about 400 percent, while its cropland has grown by 40 percent.
But climate change, which directly affects farmers, threatens "harmful impacts on food security and the preservation of biodiversity," so it is essential to prioritize the reduction of global greenhouse gases, especially from fossil fuels, said Cristina.
"Sustainability has three inseparable pillars: environmental, economic and social. With our increases in productivity, we can bring cheap food to the world," she said.
"Brazil, like China, faces the challenge of improving the lives of those who live in the countryside, providing them with conditions similar to those of the urban population. China has worked hard to combat extreme poverty in the countryside in recent years, achieving a great success," noted Cristina.
Other articles
Brazil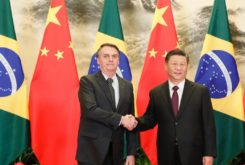 28 June 2022
Brazilian president praises China at BRICS summit