The biggest privatisation programme Angola has ever seen – and likely one of the largest in Africa – will begin this year, involving some of the country's most important companies. Under the programme, which runs through 2022, the state will sell its stakes in dozens of companies in all sectors. Among the assets to be sold are stakes in the two joint-ventures of the state-owned oil company, Sonangol, with China International Fund.
The presidential decree, seen by CLBrief, setting the terms for the 2019–2022 Privatisation Programme (ProPriv), lists among the companies to be sold China Sonangol International Limited (CSIL) and China Sonangol International Holding (CSIH), in both cases through public tenders in 2020.
The Hong-Kong based CSIL, a partnership between Sonangol and China International Fund (CIF), was officially a marketer of Angolan crude exports to China but also has several oil concessions, both in Angola and abroad.
CIF was also involved in the biggest reconstruction projects in Angola post-2002, including railroads and the new Luanda International Airport (still ongoing).
According to Africa Monitor Intelligence, CSIH is 70 per cent owned by Dayuan International Development Limited (itself owned by CIF) and 30 per cent by Sonangol.
CSIL and CSIH were headed by Chinese businessman Sam Pa prior to his arrest in 2015 for alleged corruption in a case involving the tendering of oil licenses in Angola by Chinese state-owned Sinopec.
Sonangol itself is among the companies to be privatised, along with Sonangalp and Endiama, the state concessionary for the diamond sector. Sonangol's IPO is set for 2022, the same as that of Endiama.
Stakes held by Sonangol abroad are also to be sold, including in Puma Energy, a joint-venture with Trafigura, Societé Ivoirienne de Raffinage (SIR), Sonangol Cabo Verde, Technip Angola Engenharia Limitada.
Parts of Sonangol Group are also to be sold to real estate companies, including the country's largest convention centre (Centro de Convenções de Talatona), medical facilities (Clínica Girassol), shipping yards (Porto Amboim Estaleiro Naval and Estaleiro Naval do Lobito), as well as their stake in São Tomé and Príncipe's main fuel distributor (ENCO SARL).
In the aviation industry, national air carrier TAAG and SonAir, owned by Sonangol, are set for stock exchange auctions in 2021.
The goals of ProPriv are to resize the state's intervention in economic activity, and improve efficiency and productivity in several sectors.
Also included in the "companies of reference" list are state-owned banks (BCI, BAI, Banco Económico, BCGA), insurance (Ensa Seguros) and the stock exchange itself, BODIVA.
While BCI and BODIVA are set for an IPO, Sonangol's stake in BAI (8.5%) will be offered through public tender in 2020 and the one in Banco Económico (39.4%) will be auctioned in the stock exchange in 2021.
Agro-industry project Aldeia Nova, as well as a number of factories (Biocom, Textang II, SATEC, África Textil, Nova Cimangola, Secil Lobito, CUCA, EKA and Ngola) are also slated for stock exchange auction or public tender under ProPriv.
The stake in Mota-Engil Angola, one of the company's main construction companies and a joint-venture with Portuguese group Mota-Engil, will go up for public tender in 2020.
In the telecom sector, the government intends to sell Angola Telecom, TV Cabo Angola, Angola Cables, Multitel and ENCTA.
MS Telecom is to be privatised as a stock auction and Unitel through a public tender, both in 2020.
Other entities slated for privatisation are port terminal concessionaires (Unicargas, TCUL, Secil Marítima), dozens of agro-industry facilities and fishing companies, industrial companies in special economic zones, as well as hotels.
The "leadership and strategic coordination" of the programme will remain with President João Lourenço while the Ministry of State for Economic Coordination, headed by Manuel Nunes Jr, will have general coordination of the programme, and the Ministry of Finance, under Archer Mangueira, will have the operational coordination.
The World Bank will act as a consultant, providing direct support for the technical group.
The programme proposes the dispersion in the stock exchange of the shares of companies to be privatised (IPO), as well as the auctioning of indivisible lots of shares also through the stock exchange.
The stock auction is foreseen namely for the case of companies "with potential," allowing for the management to be transferred to a strategic partner.
Given that the offering of stocks, on which the country has hardly any experience, will be the main mode of privatisation, the law acknowledges that general liquidity levels will need to be sufficient so that the process can be successful, and that the current economic cycle is "negative."
This cycle, it is added, has involved a fall in the level of credit to the economy, along with a rise in interest rates to "very high levels," which is why liquidity levels are seen as being bellow what is necessary to support a "robust" privatisation programme in a short period of time.
For that reason, the decree further states, the government has been attempting to attract foreign investment, an effort that should be "continued and deepened."
The law also proposes public tenders and bid limited to pre-qualified parties.
The state will retain full control of companies operating in "strategic sectors," namely those that have public concessions.
Of a total of 195 companies, 81 are to be sold in 2019, another 90 in 2020, a further 12 in 2021 and the remaining 4 in 2022. Most will be sold by public tender (175) with the rest sold at stock auction (11) or through IPOs (9).
The 32 national reference companies will be privatised mainly through public tender (15) and stock auction (10), with a further 7 IPOs planned; 2020 will be the year with the most privatisations.
Of the 50 Sonangol subsidiaries and assets, 48 are set for public tenders, mostly in 2019 (20) and 2020 (26).
Other articles
Angola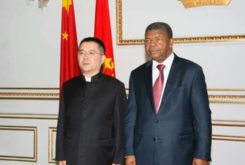 28 November 2022
China to strengthen "strategic alignment" with Angola in human resource training and youth employment
Angola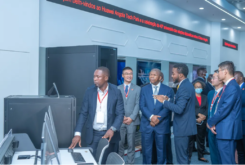 16 November 2022
Huawei "Tech Park" in Luanda to train 10,000 Angolans