The Covid-19 pandemic is putting under stress not only African countries' health systems, but also their economies and societies, due to the lockdowns to enforce quarantines. According to a study from the London School of Hygiene and Tropical Medicine (LSHTP), almost all African countries should have more than 1,000 cases by 1 May. Angola, Mozambique and Cabo Verde are among those where the number of infections is expected to peak later.
Based on the World Health Organization Situation reports (SITREPs) of 24 March, LSHTP estimates that, almost all African countries are likely to reach 10.000 cases in May, after hitting the first thousand in the beginning of that month. "Alarmingly, these (peaks) are largely synchronised continent­wide, and real burdens are certainly higher than reports. This calls for urgent action across Africa", according to the study.
"New containment measures, e.g. increased testing, contact tracing, isolation of cases, and quarantine of contacts are likely to slow, but not halt, real epidemic growth. Increased testing may accelerate the time to reporting these numbers, as improved ascertainment increases the identified fraction of real cases, but should ultimately reduce real overall burden", it adds.
The LSTHP warns that "lags and missingness" in the official data tend to delay onset of the 1.000 and 10.000 case dates, so the real timing may likely be sooner than its estimates for many countries. 
Egypt, Algeria, Nigeria and Senegal are expected to reach the first 10.000 cases of Covid-19 by mid-April, along with Morocco, South Africa and Tunisia. According to LSTHP's model, around the end of April, the first 10.000 cases will be reached in a group of countries that includes Ethiopia, Kenya, Namibia and Equatorial Guinea.
The onset of Covid-19 will happen later in the lusophone countries: Cabo Verde should reach the first 1.000 cases between April 17-27 and the first 10.000 around May 5-17. Angola's trajectory is predicted as similar by LSTHP, with the first 10.00 cases after May 8-21. Only Eritrea, Uganda and Mozambique are expected to have a slower progression of Covid-19.
Mozambique should be the African country where Covid-19 progresses the slowest, reaching 1.000 cases around April 21-May 03 and the first 10.000 between May 11-23, according to LSTHP's projections. 
As of 1 April, no lusophone country has yet reached the first 10 cases.    
According to a report by Oxford Economics on the impact of Covid-19 on the African continent, countries "have been swift to enforce physical distancing measures, where possible, and limiting transport mobility in a bid to slow the pace of contagion". 
The enforcement of curfews and partial or complete lockdowns to flatten the curve "will however contribute to the African economy's inevitable contraction this year", it adds. "The debt burden will worsen to risk a wave of forced debt restructuring unless agreements can be reached on debt holidays and waivers", according to Oxford Economics.
A consortium of African ministers this week requested a $100bn stimulus package, which will include $44bn in a debt holiday waiver, representing not only interest payments on public debt for this year, but also Eurobond debt servicing. 
According to Oxford Economics, there are also growing concerns that a mere freeze in debt servicing will not be adequate, as several sovereign credit principal repayments are due over the 2020-22 period, and rolling over such a large amount of credit would be a challenge in a difficult global financial environment.
But, the same source adds, unlike the previous episode of sweeping debt relief, "the creditor profile of African debt has splintered from primarily multilateral concessional to private creditors including Eurobond holders and export credit suppliers". "This fragmentation has weakened the collective bargaining power of previous HIPC beneficiaries, while, at the same time, bondholders and credit line suppliers may ill-afford to waive repayments or extend maturity terms, with haircut losses and restructurings likely to be negotiated on a case-by-case basis as African sovereigns will be painfully aware that defaults would close the funding taps for much-needed projects for many years post-pandemic".
Photo of COVID-19 | © iStock
Other articles
Angola
27 September 2022
92 percent of Cabinda's residential communities covered by China Railway 20th Bureau Group water project
Angola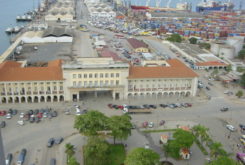 26 September 2022
China was Angola's main source of imports until june 2022