Angola is joining other African nations in calling for an extension to 2021 of the G-20 Initiative for Suspending Debt Service (DSSI), due to the economic and financial crisis caused by the Covid-19 pandemic.
According to a statement from Angola´s Finance Ministry, the African nations agreed on asking for the 1-year extension of the DSSI, to address the post-pandemic situation, during a recent on-line seminar on "Mobilization with Africa", to prepare the annual meetings of the IMF and World Bank that will take place on 17 October.
Speaking at the seminar, the Angolan Minister of Finance, Vera Daves de Sousa, referred to measures, especially in terms of debt sustainability, to deal with the shock of the pandemic on the economy and health systems.
"We would like to see the extension of existing relief initiatives, for which we thank all multilateral and bilateral partners, and emphasize our commitment to making our economies and health systems more resilient to shocks, maintaining debt sustainability, improving the environment and creating the conditions for foreign direct investment and economic diversification that promotes growth", said the Angolan official.
According to the statement, the Saudi Minister of Finance, Hamad Albazai, which holds the G20 rotating presidency, admitted an extension, but warned of the need for countries to find perennial solutions to solve the debt problem.
The event brought together political and governmental entities from several African countries, especially ministers of finance, economy and central bank governors, including of Senegal, Ghana, Nigeria, Cameroon and Tunisia, as well as senior officials from international multilateral organizations.
Among the guests were also the UN Secretary General, António Guterres, the Chair of the African Union Commission, Moussa Faki, and the Executive Secretary of the United Nations Economic Commission, Vera Songwe.
IMF director Kristalina Georgieva stressed, at the seminar, the need for African states to step up economic reforms aimed at improving the quality of spending in key areas such as education, health, digitalisation and infrastructure.
"The crisis offers opportunities for reforms. Without reforms, foreign aid will not be effective or sufficient ", concluded the Director-General of the IMF.
World Bank director David Malpass said that the financial institution´s Board of Directors is in the process of approving, in the next few days, a USD 12 billion program for the acquisition of Covid-19 vaccines.
On the occasion, the President of the French Republic, Emmanuel Macron, announced the holding, in May 2021, in Paris, of a High Level International Conference for mobilizing public investment and private financing for major projects in Africa.
Having obtained financial relief from G20 countries, Angola should also have similar support from China, in light of its difficulties in dealing with official debtload as the economy heads downwards, the Economist Intelligence Unit (EIU) says.
Other articles
Angola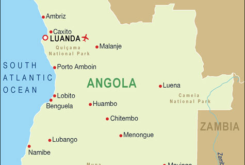 21 June 2021
China National Aero-Technology Corporation in USD 85 million Angola Deal