The export of agri-food products to China will have new requirements from next year, namely, in terms of inspection and required information, with the adding of products to the "high risk" category.
According to information released by Portugal´s General Directorate of Food and Veterinary Medicine (DGAV), the new rules are applicable to mainland China, excluding the special administrative regions of Macau and Hong Kong, and the high-risk product category now includes meat and meat products, aquatic, dairy and bee products, edible oils and fats, eggs and egg products.
Other products included in this category are animal casings, bird nests and derivatives, stuffed wheat products, cereals edibles, products from the grain and malt milling industries, fresh and dehydrated vegetables, condiments, nuts and seeds, unroasted coffee and cocoa beans, foods for dietary purposes, health foods and dried beans.
Campaign to Promote Portugal's Agri-food Sector Kicks Off in China
The documentation now required includes a letter of recommendation from the competent authority, the list of establishments that wish to be qualified, identification documents of the establishments, such as the commercial license, declaration of compliance issued by the competent authority, "informing that the targeted establishment complies with the provisions of applicable Chinese law", and the audit and supervision report of the competent authority.
Additionally, a plant plan, cold chain storage plan and production flow map may also be required. The entities involved in the production chain must also be registered, namely those that have influence in the "processing, packaging and storage of products".Portuguese establishments of pork, aquatic and dairy products, which were authorized to export to China, will continue to be able to export until January 1st, keeping their registration numbers valid after this date. Establishments in these categories that intend to start new qualification processes must contact the Regional Directorate for Food and Veterinary Medicine or the Regional Directorate for Agriculture and Fisheries.
In turn, the General Administration of Customs of China (GACC) will be responsible for registering Portuguese producers, who operate in the other categories, and that have exported to this market since January 2017. In this case, companies must be part of the list that the DGAV sent to the GACC on 31 October, which can be updated until the end of November.
China-Europe 2021 Rail Freight Volumes Surpass Last Year´s Total
The second category, the so-called low-risk, includes the remaining agri-food products, such as beverages, which are imported by China. Producers in this category must register in the new 'China Import Food Enterprises Registration' system.
"All Portuguese establishments that intend to start exporting products of this category to the Chinese market as of January 1, 2022, as well as all establishments previously registered in the old system […] must proceed with automatic registration in the new system", according to the DGAV. All producers, as well as intermediary entities involved in the production chain must be registered, as well as those who export raw materials or products to China.
In addition to these requirements, there are also requirements in terms of product labeling, such as the obligation to include new registration numbers on outer and inner packaging. As explained by the DGAV, stickers can be used in accordance with Chinese legislation, with the exception of meat, aquatic, fresh or frozen, healthy and dietary products. In this case, the products must have packaging with labels printed "at the time of production", and stickers are no longer allowed.
Other articles
Brazil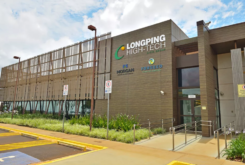 19 May 2022
Chinese seed company LongPing High-Tech investing USD 100 million to grow in Brazil