China is Africa's largest bilateral creditor, having given these countries estimated loans worth $152 billion between 2000 and 2018. With the economic crisis in countries like Angola or Mozambique generating debt repayment difficulties, negotiations are underway, with the engagement of China and private lenders.
According to the head of the China Africa Research Initiative at Johns Hopkins University (US), Deborah Brautigam, it is likely for China to agree to delay but not forgive its $152 billion of loans, an approach at odds with prior forbearance plans from groups including the Paris Club.
"The Chinese have always done their lending on the idea that individual projects contribute to structural transformation and economic development. Those projects might be good projects and viable projects to get countries to a new stage where they might be in a position to repay the loans", Brautigam wrote in an article on Bloomberg.
"The good news is that China is typically willing to negotiate payment extensions. Usually, it's not that difficult to lengthen the payment period or lengthen the maturity of loans. China has backed the G-20 plan, although it hasn't participated in previous global debt relief initiatives. All told, according to IIF data, China's outstanding debt claims reached $5.5 trillion last year," Brautigam added.
The loans include facilities made between 2000 and 2018. While many have been repaid on schedule, she explained that it shows how much China's lending has grown in Africa amid a push for political and economic clout through an overseas infrastructure investment plan, which was started by President Xi Jinping in 2013.
China will also provide $2 billion over two years to support the fight against the pandemic, especially in developing countries, Xi said in a speech to the World Health Assembly.
Angola's public debt/GDP ratio reached 109% at end-2019, with more than 40% of total government revenue going towards servicing public external debt, the country's single largest outgoing. The Economist Intelligence Unit (EIU) expects the country's public debt burden to increase over 2020. According to the EIU´s most recent report on the country, more arrears are expected, and possibly even a full default.
"A large portion of the country's debt is owed to China, so a deal could be brokered bilaterally, but this could lead to repayment being linked to future oil revenue at a less favourable rate, a practice that Angola has previously said that it wants to stop", says the EIU.
On 15 April, G20 Finance Ministers agreed to offer 77 countries a suspension on their debt payments to other governments from May to December 2020. The G20 agreement also says that: "Private creditors will be called upon publicly to participate in the initiative on comparable terms."
A substantial part of Africa´s debt is owned by private lenders. Last week, a group of 25 asset managers and financial institutions have formed the Africa Private Creditor Working Group to coordinate debt negotiations with African governments. The group has stated there should not be a "blanket approach" to debt relief.
Reacting to the Africa Private Creditor Working Group, Tim Jones, Head of Policy at Jubilee Debt Campaign, said these firms "lent at high interest rates to poor countries because they claimed loans were high risk". "We are now facing a huge crisis where poor countries need every cent they can get for health spending and social protection. The risk has come home to roost and lenders need to accept they cannot make large profits from these loans", he added.
"Unless debt payments to private lenders are cancelled, IMF loans and the G20's debt suspension will be used to pay high interest to private lenders, an outrageous use of public money", Jones said.
As the search continues for solutions to ensure African economies enjoy continued market access and meet their private sector debt service obligations, the United Nations Economic Commission for Africa (ECA) on Monday convened a meeting between African Finance Ministers, the Africa Private Sector Working Group and the African Union (AU) Special Envoy on COVID-19 .
According to a statement by ECA, the meeting aimed at finding new financing solutions to provide additional resources for countries to mitigate the impact of the ongoing COVID-19 pandemic and ways to improve the profile and terms of Africa's commercial debt obligations so that Africa can better confront the health crisis. The discussion engaged the Africa Private Sector Working Group.
In her remarks, Ms. Vera Songwe, ECA's Executive Secretary stressed that; "African countries are committed to meeting all their obligations to commercial creditors in a timely manner and want to maintain access to international debt markets for the build back period." She also added, ''Most African countries were on a successful reform track prior to the crisis, that is why they had access to the capital markets."
Discussions focused on ways in which the interests of both African governments and commercial creditors could be aligned to deal with the double crisis of a health pandemic and an economic recession. During the meeting, the Finance Ministers agreed on the importance of maintaining Eurobond coupon payments so as to maintain post-pandemic access to international debt markets for development finance and on having an ongoing coordinated dialogue with creditors.
Speaking on behalf of the creditor group, Mr. Kevin Daly, Senior Investment Manager at Aberdeen Asset Management, said; "We expressed our desire to support African countries address liquidity pressures that have arisen due to the crisis, and by ensuring they remain current on their Eurobonds, we believe financing opportunities will materialize soon."
He also noted that the creditor group was proposing some innovative financing solutions, such as special purpose bonds that are targeted to Social Development Goals. "These would be appealing to investors who are increasingly focused on social development goal issues, and instruments that are partially guaranteed by multilateral institutions and that could help to ease liquidity pressures," said Mr. Daly.
The Africa PSWG expressed the view that a one-size-fits-all solution would be counter-productive for African nations but welcomed the need to discuss coordinated approaches where possible and expedient. All ministers, including the ones from Kenya, Cameroon, Senegal and Ghana, stressed the importance of keeping market access, and agreed that more work is needed to communicate the good economic track record of their countries prior to the crisis.
The meeting agreed to continue discussions towards rapid, pragmatic and effective solutions on Africa's commercial debt to manage the COVID-19 crisis and turn Africa back to growth restoring policies and actions.
Photo: Cyril Ramaphosa, African Union chairman, and Xi Jinping, president of China
Other articles
Angola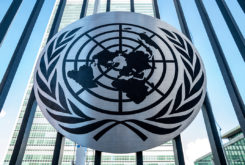 31 January 2023
Mozambique and Cabo Verde to lead Portuguese-speaking countries GDP growth in 2022
Angola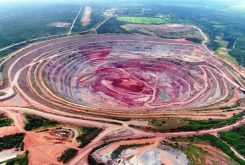 27 January 2023
Chinese-owned company to start mining Niobium in Angola